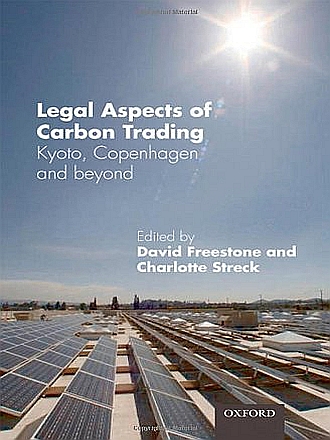 Linking Emissions Trading Systems
Publication

Citation

Mehling, Michael 2009: "Linking Emissions Trading Systems" in: David Freestone and Charlotte Streck (eds.): Legal Aspects of Carbon Trading - Kyoto, Copenhagen and Beyond, Oxford, U.K.: Oxford University Press, 108-133.
A more traditionally jurisprudential perspective on linking is provided in this book chapter published in an anthology titled "Legal Aspects of Carbon Trading: Kyoto, Copenhagen and Beyond" published by Oxford University Press. In this chapter, Michael Mehling provides a conceptual framework for the distinction of legal and political criteria for the feasibility of carbon market linkages.
Legal considerations, he argues, arise during the process of establishing the link, which necessitates recourse to recognized sources of law and legal procedures; and, second, in the event of a conflict between the link as such with substantive legal norms and principles, whether these originate in international, regional or domestic law. Beyond providing a taxonomy of different forms of linking and their legal implementation, be it a binding international agreement or a less formal political arrangement accompanied by domestic legislation, the chapter also identifies institutional options and normative criteria for the governance of the link. It concludes with case studies identifying relevant legal provisions in the United States and the European Union.
Contact