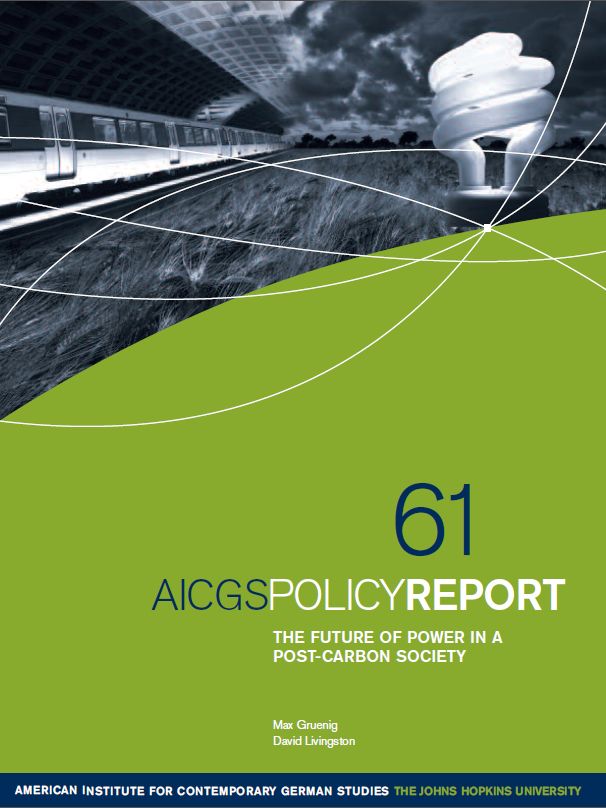 The Future of Power in a Post-carbon Society
Breaking the Carbon Cartel: How Cities are Leading the Way to a Post-Carbon Tomorrow
Publication

Citation

Gruenig, Max and David Livingston 2015: The Future of Power in a Post-carbon Society. American Institute for Contemporary German Studies. Washington, DC: American Institute for Contemporary German Studies.
The American Institute for Contemporary German Studies (AICGS) at Johns Hopkins University released a report detailing the future of power in a post-carbon society. Max Grünig, from Ecologic Institute co-authored the report with David Livingston, an associate at the Carnegie's Energy and Climate Program. This Policy Report offers German and American perspectives on the emerging fuel challenges in the transportation sector and the importance of post-carbon cities. It is an example of AICGS' commitment to comparing and contrasting the interests and policies of Germany and the United States in an effort to identify common policy challenges, choices and opportunities. The report is available for download.
David Livingston's article "The Future of Fuel Security: Transatlantic Challenges and Opportunities in an Age of Upheaval" focuses from an American perspective on the rebalance of liquid fuel stock due to the lack of ways to replace an oil-based infrastructure.
Max Grünig however describes in his article "Breaking the Carbon Cartel: How cities are Leading the Way to a Post-carbon Tommorrow" cities with innovative advancements and integrated urban networks that lead to successful startegies of lowcarbon development of every size across the globe. Furthermore, he discovers how cities, serving as hubs of knowledge and learning, are essential catalysts in the global transformation to a post-carbon society. Both German and American cities are among the leaders in the global transition and significant initiatives originate in both the U.S. and Germany. The success of the global post-carbon transformation of cities relies heavily on continued support and commitment in both nations. As we can learn from the post-World War II economic miracle (Wirtschaftswunder) in Germany and the parallel rise of the American middle class, progressive social changes radiate from urban centers outward. American and German cities will continue to serve as springboards for both local and international efforts that will define success in the global post-carbon transformation.
The report [pdf, 2 MB, English] is available for download.