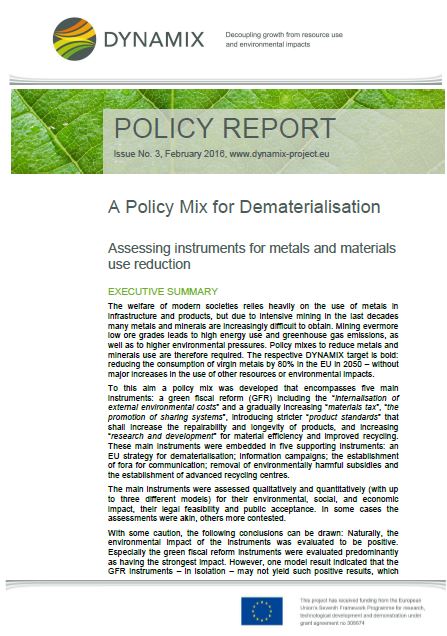 A Policy Mix for Dematerialisation
Assessing instruments for metals and materials use reduction
Publication

Citation

Langsdorf, Susanne (2016): A policy mix for dematerialisation. DYNAMIX Policy Report No. 3. Berlin: Ecologic Institute
As part of the DYNAMIX project, three policy reports that synthesised the assessments of three policy mixes (a land use policy mix; a metals and materials use policy mix; and an overarching policy mix) were written in order to support the pathway to absolute decoupling in the EU.
This policy mix aimed at reducing the consumption of virgin metals by 80% in the EU in 2050 – without major increases in the use of other resources or environmental impacts. Five main instruments to reach this target were assessed: a green fiscal reform including the "internalisation of external environmental costs" and a gradually increasing "materials tax", "the promotion of sharing systems", introducing stricter "product standards" that increase the reparability and longevity of products, and increasing "research and development" for material efficiency and improved recycling. These main instruments were embedded in five supporting instruments, i.e. information campaigns.
The "metals policy mix" was assessed to have a positive environmental effect, especially the green fiscal reform instruments, if accompanied by supporting instruments and an increase in research and development. The support of sharing schemes and product standards were expected to have low quantitative effects. As the mix pushed for a shift from production to services, the 'soft impact' of sharing systems may nevertheless be important: it may gradually change peoples' expectations as to how services are provided and their understanding of ownership.
The assessment also suggested changes for the policy mix, including accompanying the shift of the economy with skill enhancement measures and offering government support for communities strongly affected by the shift.
 The policy brief [pdf, 0.9 MB, English] is available for download.
Contact