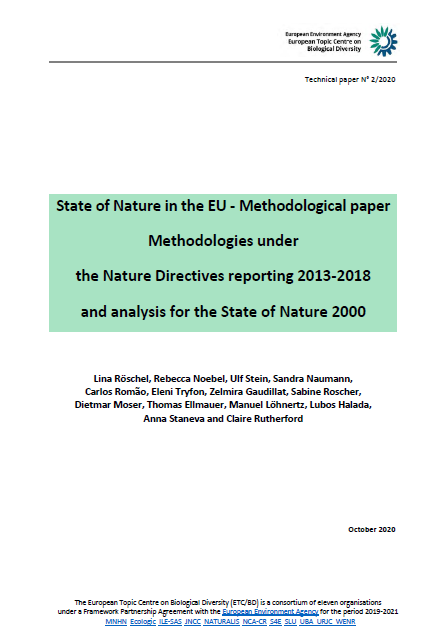 State of Nature in the EU (2013-2018) – Methodological paper
Methodologies under the Nature Directives reporting 2013-2018 and analysis for the State of Nature 2000
Publication

Citation

Röschel, L., Noebel, R., Stein, U., Naumann, S., Romão, C., Tryfon, E., Gaudillat, Z., Roscher, S., Moser, D., Ellmauer, T., Löhnertz, M., Halada, L., Staneva, A. and Rutherford, C., 2020. State of Nature in the EU - Methodological paper. Methodologies under the Nature Directives reporting 2013-2018 and analysis for the State of Nature 2000. ETC/BD report to the EEA.
This report is complementary to the third edition of the State of Nature report, which describes the state of nature in the EU based on reports from Member States under the Birds (2009/147/EC) and the Habitats (92/43/EEC) Directives for the period 2013-2018. It details the methodologies applied in the current State of Nature report, complementing the reporting guidelines for the Member States.
The report focuses on assessments made at EU level beyond Member State reports. It is a stand-alone document that explains the methodological processes that lead to the assessments and results presented in the current State of Nature Report. It summarizes methodological applications practiced deriving results presented in the "State of nature in the EU: Results from reporting under the nature directives 2013-2018" report. To facilitate traceability of findings, each chapter is complimentary to the same section in the State of Nature report.
Contact