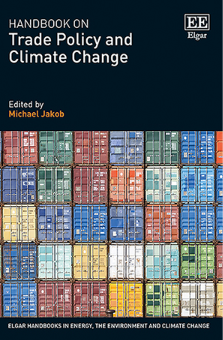 Handbook on Trade Policy and Climate Change
Publication

Citation

Jakob, Michael (ed.) 2022: Handbook on Trade Policy and Climate Change. Cheltenham: Edward Elgar Publishing.
This insightful Handbook, by Dr. Michael Jakob, provides a comprehensive overview of the most recent developments in the academic debate on the numerous and complex linkages between international trade and climate change.
Adopting a broad interdisciplinary approach, it brings together perspectives from scholars in economics, political science and legal studies to confront the critical environmental challenges posed by globalization. Initial chapters provide an overview of the key debates related to international trade and climate policy, engaging with empirical data from the US and China to assess the impact of new trade initiatives and policy on greenhouse gas emissions, carbon leakage and the increase of trade in carbon-intensive products. Contributors propose policy options that align international trade with climate change mitigation and address crucial legal and practical implications, including the implementation of Border Carbon Adjustments and international trade disputes.
Offering critical and empirically-based perspectives on the future of international trade policy, this timely Handbook is crucial reading for scholars, researchers and graduate students in political science, public policy and climate research. Policymakers will also benefit from its unique and insightful policy recommendations.
Contact