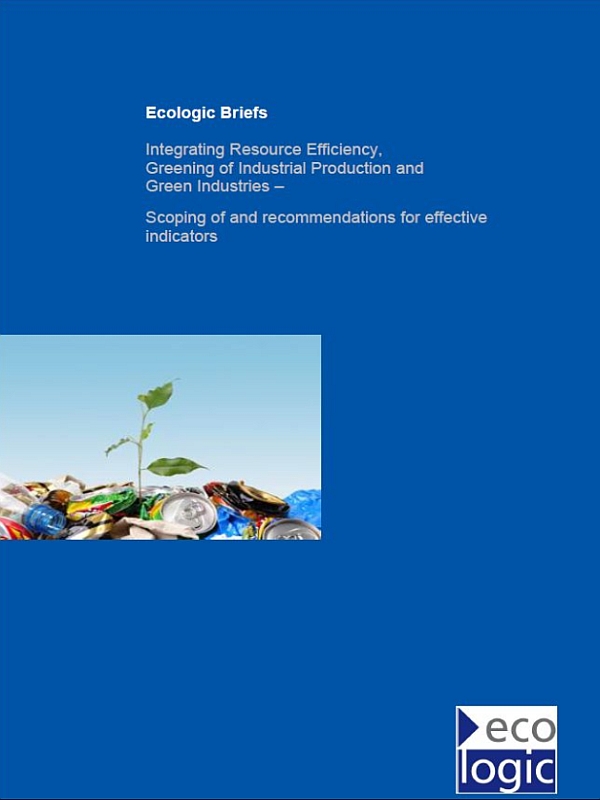 Integrating Resource Efficiency, Greening of Industrial Production and Green Industries
Scoping of and Recommendations for Effective Indicators
Publication

Citation

Martin Hirschnitz-Garbers, Tanja Srebotnjak 2012: Integrating Resource Efficiency, Greening of Industrial Production and Green Industries - Scoping of and recommendations for effective indicators. [Ecologic Briefs on International Relations and Sustainable Development]. Berlin: Ecologic Institute.
Fostering sustainable industries and industrial development requires the use of effective indicators. Though a multitude of indicators exist, their applicability to sustainable industries remains largely unaddressed to date. In the RISI project, Ecologic Institute reviewed the available scientific knowledge in order to evaluate existing indicators and propose recommendations concerning their usability and the potential need for further indicator development. Ecologic Institute has now published a shorter version of the project results as a Ecologic Brief with forewords by Heinz Leuenberger, Director of UNIDO's Environmental Management Branch (EMB), and R. Andreas Kraemer, Director of Ecologic Institute. The Ecologic Brief is available for download.
The Ecologic Brief is tailored specifically to the information needs of political decision-makers and experts in industrial resource efficiency.
Contact