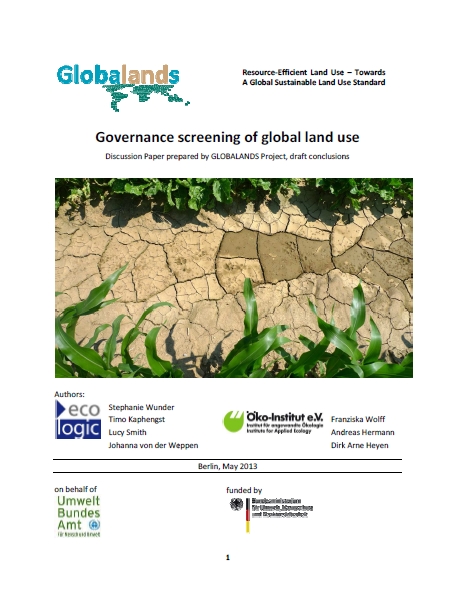 Governance Screening of Global Land Use
Discussion Paper prepared by GLOBALANDS project, draft conclusions
Publication

Citation

Wunder, Stephanie et al. 2013: Governance Screening of Global Land Use. Discussion Paper prepared by GLOBALANDS Project. Umweltbundesamt, Berlin.
Ranging from climate policies over the UN Convention on Biological Diversity to biofuels and resource efficiency policies, this paper summarizes the most important political starting points for a more sustainable land use. It has been developed within the project GLOBALANDS and presents the main results of the analysis of more than 120 policies worldwide. The analysis focuses on the policies' objectives and mechanism as well as their relevance for sustainable land use. The full report will be available in August 2013.
Besides explicit "windows of opportunity" – e.g. the "Voluntary Guidelines on the
Responsible Governance of Land Tenure" – the authors identified relevant policy fields for land use, for which no efficient governance mechanisms are currently in place, like for example Western diets with a large share of animal products or  population growth. Moreover, the authors found that the success of policies on a global level strongly depends on the national and local conditions.
The paper [pdf, 430 kB, English] is available for download.
Contact