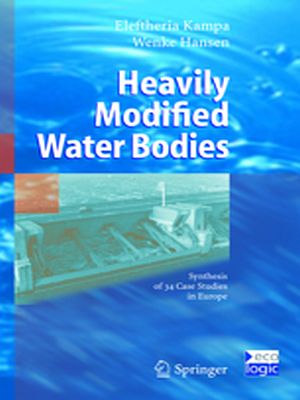 Heavily Modified Water Bodies
Synthesis of 34 Case Studies in Europe
Publication

Citation

Kampa, Eleftheria and Wenke Hansen 2004: Heavily Modified Water Bodies. Synthesis of 34 Case Studies in Europe. [International and European Environmental Policy Studies]. Berlin Heidelberg: Springer.
This book is the result of a European project on heavily modified water bodies, carried out in the context of the Common Implementation Strategy of the EU Water Framework Directive (WFD). It presents and synthesises the results of thirty-four European case studies on the identification and designation of heavily modified water bodies.
Emphasis is placed on the particular methods used in the case studies in the process of identification and designation, and further research needs are identified. The contents of this book have served as the basis for the production of the agreed European Guidance on artificial and heavily modified water bodies to be used by practitioners in the implementation of the WFD.
The book is written in English and can be ordered from Springer at the price of 89,95 €.
Read more about the project Heavily Modified Water Bodies.
Contact