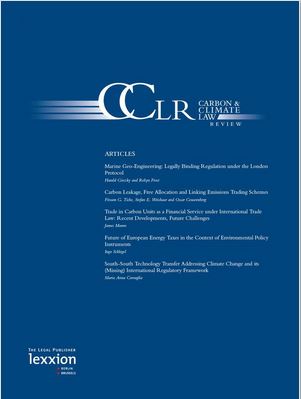 Carbon and Climate Law Review (CCLR) Celebrates its 10th Anniversary
News

Date

Location

Berlin, Germany
Carbon and Climate Law Review (CCLR), a leading journal in the field of climate change law and policy, celebrates its 10th anniversary this year. Since its inception, colleagues from Ecologic Institute have contributed to its success as authors and members of the Editorial Board. To commemorate the anniversary, CCLR invited the authors of the inaugural issue to revisit their articles from a decade ago, and to reflect on them with the present perspective.
Included among those authors are Camilla Bausch, Director of Ecologic Institute, and Michael Mehling, a partner of the institute. In their 2007 publication for the first issue of CCLR, they took stock of progress on climate negotiations under the United Nations Framework Convention on Climate Change. Now, a decade later, they have revisited their assessment, tracing the tumultuous path of negotiations since 2007, and pointing to milestones in the journey, major achievements, as well as challenges that lie ahead.
With the hard work that culminated in the Paris Agreement, the international community has created a robust basis for climate change mitigation and adaptation. But this is "only" a landmark of an ongoing and difficult journey, as Parties to the agreement begin implementing their Nationally Determined Contributions (NDCs) and raise their ambition over time. Likewise, rendering all aspects of the agreement operational will force Parties to once again navigate treacherous diplomatic waters, something the intended withdrawal of the largest historical emitter, the United States, will not make any easier.
Ultimately, however, the authors conclude on a cautiously optimistic note, pointing to many positive developments since 2007, and in particular to the the falling cost of clean technologies. 
Both authors have been involved since the 2007 launch of the journal as members of the Editorial Board. This year, CCLR celebrates its 10th Anniversary, an occasion it has marked with two special issues. The first of these, Issue 2/2017, featured winning essays of the Raúl Estrada Competition for Emerging Scholars in Climate Law, honoring the Argentinian statesman and international lawyer who chaired the negotiations leading up to adoption of the Kyoto Protocol. Issue 3/2017 features invited reflections from leading experts on international climate change law: the authors of the very first CCLR issue revisit their ideas ten year down the road; and, in special interviews, founding members of the Editorial Board share insights from their personal and professional journey in climate law and their perspectives on the overall direction of the field. In the decade since its inception, CCLR has established itself as an important fixture of the international scholarly debate on climate change and governance. Ecologic Institute looks forward to accompanying the journal's future and contributing to its continued success with articles and ideas.