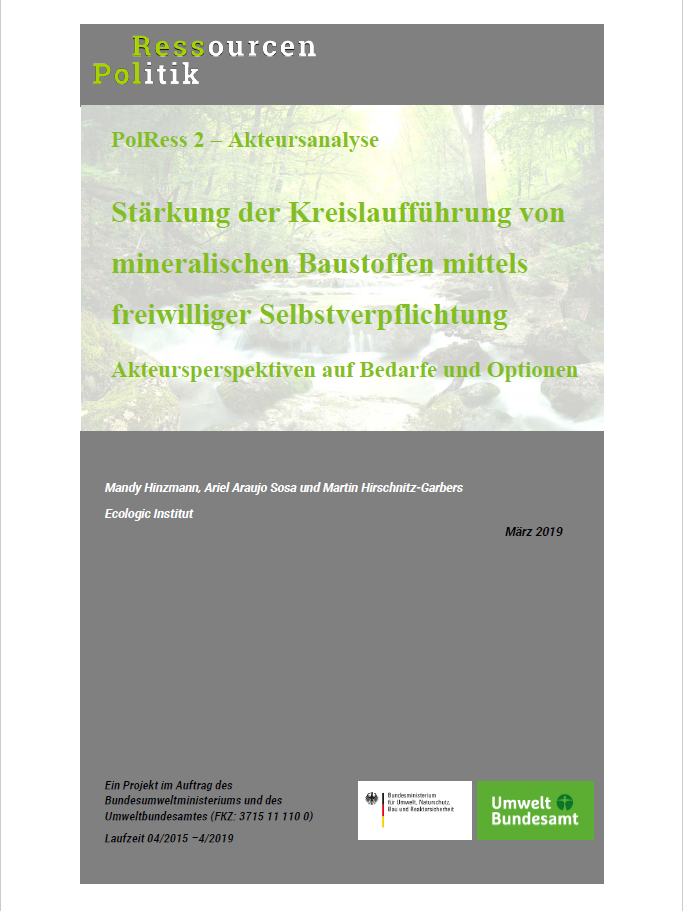 Stärkung der Kreislaufführung von mineralischen Baustoffen mittels freiwilliger Selbstverpflichtung
Akteursperspektiven auf Bedarfe und Optionen
Publication

Citation

Hinzmann, Mandy; Ariel Araujo Sosa; Martin Hirschnitz-Garbers (2019): Stärkung der Kreislaufführung von mineralischen Baustoffen mittels freiwilliger Selbstverpflichtung - Akteursperspektiven auf Bedarfe und Optionen. Akteursanalyse im Projekt Ressourcenpolitik 2 (PolRess 2). www.ressourcenpolitik.de
How can the recycling of construction materials in Germany be further expanded and professionalised? What needs to be changed so that more high-quality recycled construction materials can be used, especially in high-rise construction? The stakeholder analysis by Ecologic Institute focuses on these questions. Based on interviews with actors in the construction industry, concrete proposals for measures will be presented.
In Germany, sands, gravel and natural stones in the order of approximately 500 million tonnes are used annually for local construction activities. At the same time, mineral construction waste constitutes the largest waste stream. So far, secondary construction materials have mainly been used in the context of downcycling, for example as road foundation, base course under buildings or backfilling of building pits.
Against this background, the analysis firstly examines how construction material recycling can be further expanded and professionalised in Germany. Secondly, we investigate how the use of high-quality secondary construction materials can be increased - especially in building construction. The analysis is based on interviews with actors from the fields of recycling and disposal of construction waste, certification of construction materials, as well as from the building materials industry, construction industry and the public sector.
In addition to concrete proposals for a voluntary self-commitment of the construction sector, further measures are presented which, as part of a policy mix, can strengthen the recycling of mineral building materials.
Contact