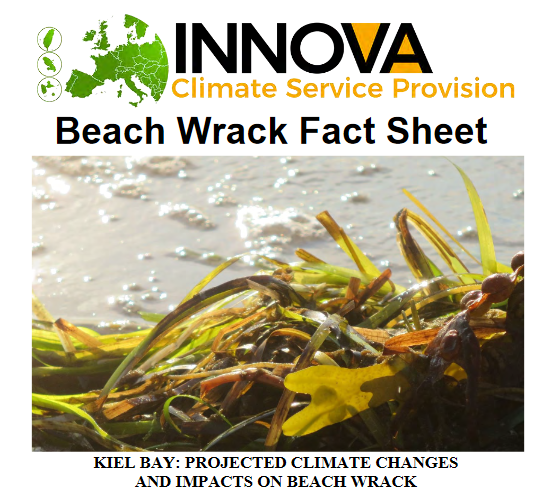 INNOVA Beach Wrack Fact Sheet
Kiel Bay: Projected Climate Changes and Impacts on Beach Wrack
Publication

Citation

Nico Stelljes (2021): INNOVA Beach Wrack Fact Sheet. Ecologic Institute. 10p.
This fact sheet for the project INNOVA illustrates a literature review on the effects of climate change on beach wrack landing on the German Baltic Shore. Beach wrack consists mainly of bladderwrack and seagrass and it is likely that climate change will have various effects on these plants. Aspects like rising water temperature, erosion, changes in salinity, eutrophication or oxygen deficiency are all affected by climate change. This will have direct effects on the composition and amount of beach wrack landing on the Baltic Sea shores.
However, with several interrelations between the climatic parameters affecting seagrass and bladderwrack, it is unclear, to what extent they are able to adapt to these changes. Therefore, no future trends can be stated as to the extent to which changing climate parameters such as temperature rise or sea level rise will affect the beach wrack. Due to the manifold relationships between the parameters, a trend showing an increase in the amount of beach wrack under a changing climate as well as a decrease in the amount of beach wrack would be conceivable. Similarly, a change in the composition of the beach wrack is conceivable under a changing climate.
Contact