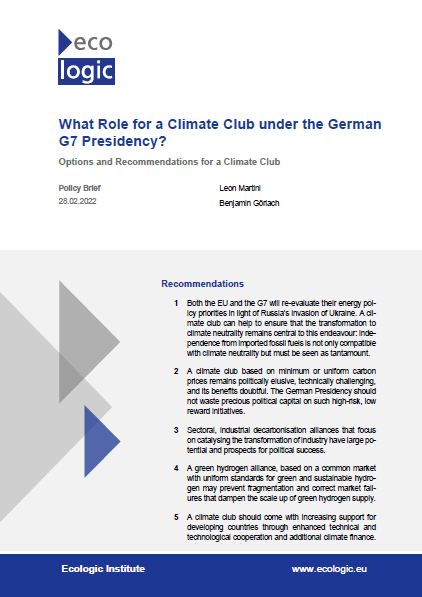 What Role for a Climate Club under the German G7 Presidency?
Options and Recommendations for a Climate Club
Publication

Citation

Martini, Leon and Benjamin Görlach, 2022: What Role for a Climate Club under the German G7 Presidency. Ecologic Institute, Berlin.
The German government has put the formation of an 'ambitious, bold, and cooperative' climate club on top of its G7 Presidency agenda. But what is a climate club? And what type of climate club should the German G7 Presidency push toward? This policy brief provides some answers to these questions and formulates recommendations for the German Presidency.
A climate club is meant to provide both a forum and a mechanism for accelerating international collective action on climate change. Initially reserved for initiatives around uniform (minimum) carbon prices, the term climate club is now used in a more expansive way to describe intergovernmental initiatives that aim to advance climate action and that are based on clear rules of membership. However, there is little consensus about what a climate club actually is, what it can achieve, and what it should focus on to accelerate global climate action. This policy brief discusses the climate club concept and outlines different design options for the German Presidency to pursue. Some key insights include:
Both the EU and the G7 will re-evaluate their energy policy priorities in light of Russia's invasion of Ukraine. A climate club can help to ensure that the transformation to climate neutrality remains a central priority. Initiatives need to address the common ground between the geopolitical crisis and the transformation to climate neutrality: drastic improvements of energy efficiency, electrification of transport and heat, and massive acceleration in renewables deployment both help to reduce dependency on fossil fuels imports – and are inevitable for decarbonisation.
Sectoral, industrial decarbonisation alliances that focus on catalysing the transformation of industry have large potential and prospects for political success. They also align with the strategy to reduce Europe's dependency on Russian gas. Industrial decarbonisation alliances can be built around common labelling, standards, green public procurement, and lead markets.
A green hydrogen alliance, based on a common market with uniform standards for green and sustainable hydrogen may prevent fragmentation of standards and correct market failures that dampen the scale up of green hydrogen supply.
A climate club based on minimum or uniform carbon prices remains politically elusive, technically challenging, and its benefits doubtful. The German Presidency should not waste precious political capital on such high-risk, low reward initiatives. Enhanced technical cooperation on carbon pricing – in the realm of the G20 and OECD – is less transformative but can pave the way for more formal cooperation in the long-run and should therefore be supported by the G7.
A climate club should come with increasing support for developing countries through enhanced technical and technological cooperation and additional climate finance.
More information can be found in the policy brief.
The policy brief is part of a project aimed at addressing key issues on the climate policy agenda and how the G7 can contribute to this. This ongoing project – in cooperation with WWF and E3G – will address issues like financing climate partnership, CBAM and the climate club, green hydrogen and loss and damage. You can find more information on this project here.
Contact