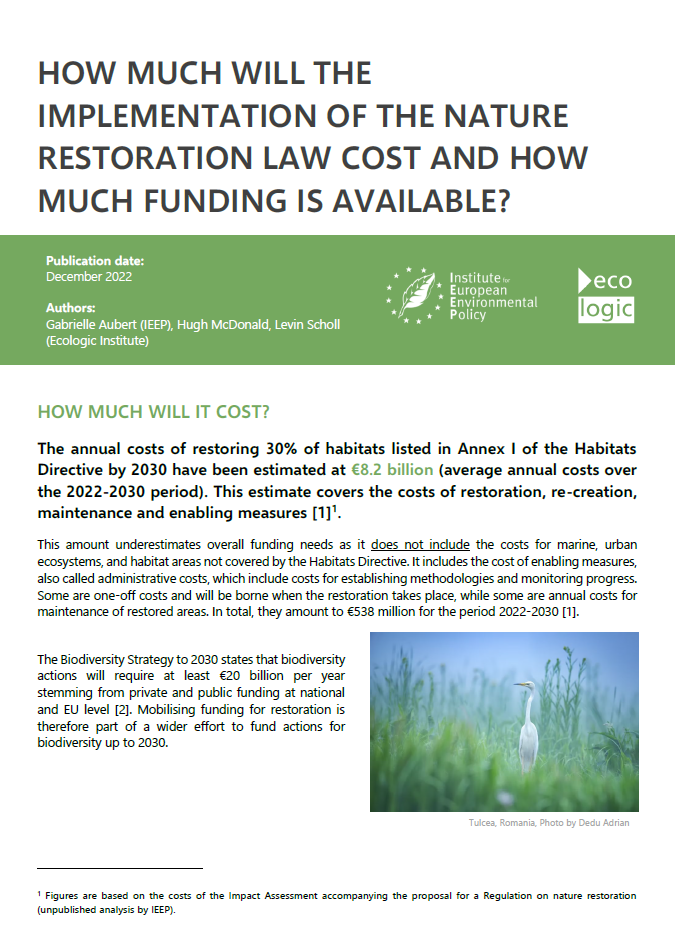 How Much Will the Implementation of the Nature Restoration Law Cost and How Much Funding is Available?
Publication

Citation

Aubert, Gabrielle; Hugh McDonald, Levin Scholl 2022: How much will the implementation of the Nature Restoration Law cost and how much funding is available? IEEP, Ecologic Institute: Brussels, Berlin.
The EU Commission published its proposal for a new Nature Restoration Regulation in June 2022. In this context, IEEP and Ecologic Institute – as part of the Think Sustainable Europe network – published a series of thematic policy briefs to inform Members of the European Parliament and other policy makers about a variety of topics relating to nature restoration.
Funding the implementation of the law is a key aspect and a point of tension in the negotiations. This policy brief addresses three questions:
How much will implementing the NRL cost and how much funding is available?
How can Member States mobilise funding for nature restoration?
How do the economic benefits brought by nature restoration compare to its costs?
The Commission's impact assessment estimated that restoring 30% of habitats listed in Annex I of the Habitats Directive by 2030 will cost €8.2 billion a year. EU funds have the scope to cover a large part of these funding needs, as the biodiversity spending target in the current multiannual financial framework (MFF) amounts to €16 billion a year. EU and national public funding should also be used to leverage investments from the private sector, as private sector funding is currently quite low, but there is quite a lot of interest.
Contact