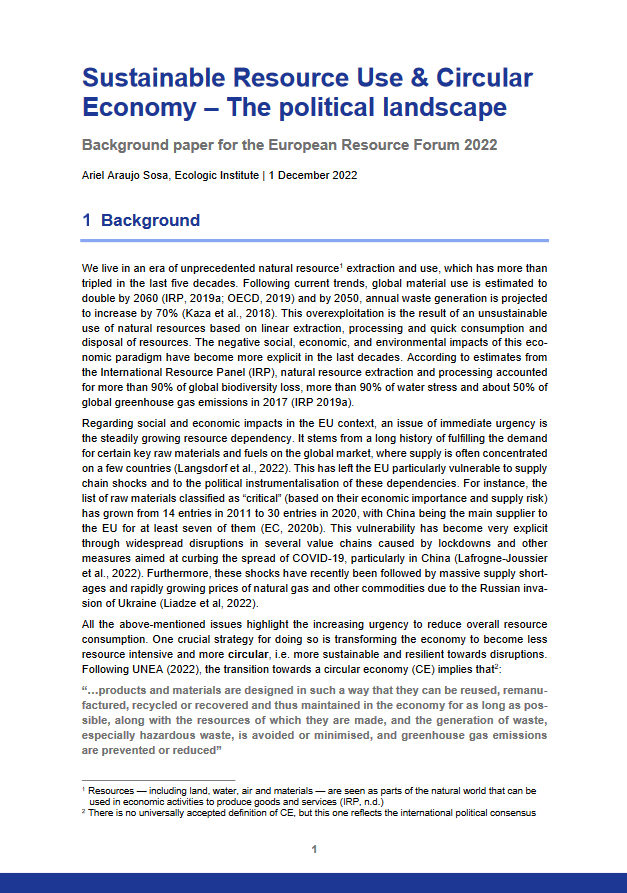 Sustainable Resource Use and Circular Economy – the political landscape
Background paper for the European Resource Forum 2022
Publication

Citation

Araujo Sosa, Ariel 2022: Sustainable Resource Use and Circular Economy – the political landscape. Background paper for the European Resource Forum 2022. Berlin: Ecologic Institute.
The transition to sustainable resource use and a circular economy is broadly recognised as an important lever in dealing with the various current crises. Debates in various international organisations suggest that such a transition will require profound systemic changes and the increased integration of previously separated policy fields in order to deliver the expected benefits. Moreover, current efforts are largely focused on entire product value chains.
In December 2022, the 6th European Resources Forum – "Transformative approaches for sustainable resource use and a circular economy" took place. Ariel Araujo Sosa of Ecologic Institute supported the German Environment Agency in content-related issues surrounding the Forum, including the preparation of this background paper.
Contact