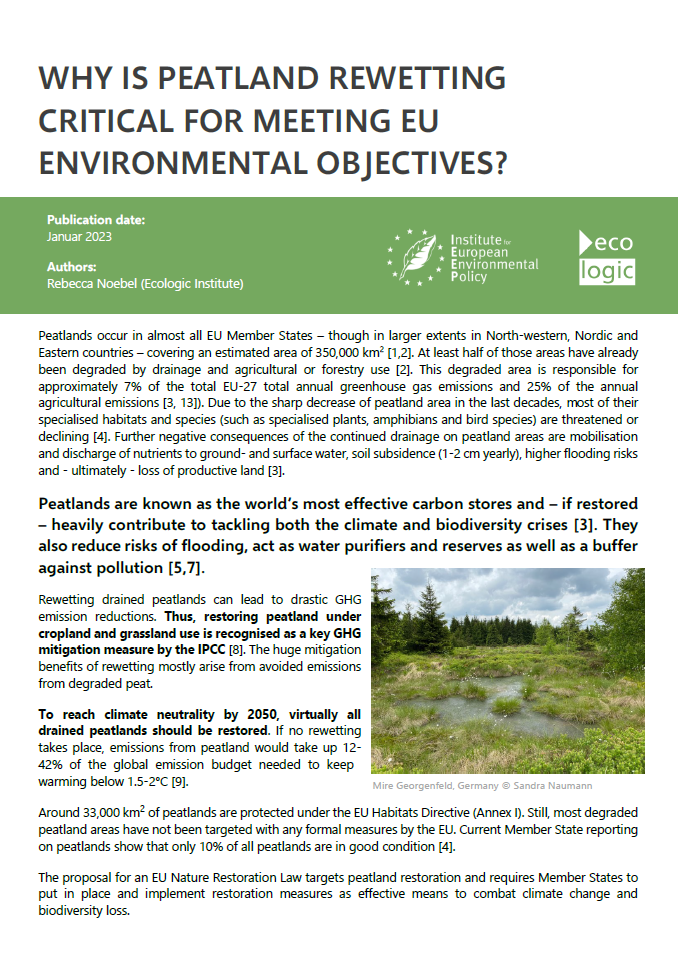 Why is Peatland Rewetting Critical for Meeting EU Environmental Objectives?
Publication

Citation

Noebel, Rebeca 2023: Why is peatland rewetting critical for meeting the EU environmental objectives? Ecologic Institute; IEEP: Berlin, Brussels.
The EU Commission published its proposal for a new Nature Restoration Regulation in June 2022. In this context, Ecologic Institute and IEEP – as part of the Think Sustainable Europe network – published a series of thematic policy briefs to inform Members of the European Parliament and other policy-makers about a variety of topics relating to nature restoration.
This policy brief explores the potential and benefits of peatland rewetting, as proposed in the regulation. Peatlands are known as the world's most effective carbon stores and – if restored – heavily contribute to tackling both the climate and biodiversity crises. They also reduce risks of flooding, act as water purifiers and reserves, as well as a buffer against pollution. Currently, at least half of those areas in the EU have already been degraded by drainage and agricultural or forestry use, contributing approximately 7% to the total EU-27 total annual greenhouse gas emissions. Thus, requiring EU Member States to put in place and implement restoration measures harnesses effective means to combat climate change and biodiversity loss – which also outweigh the estimated costs.
Contact