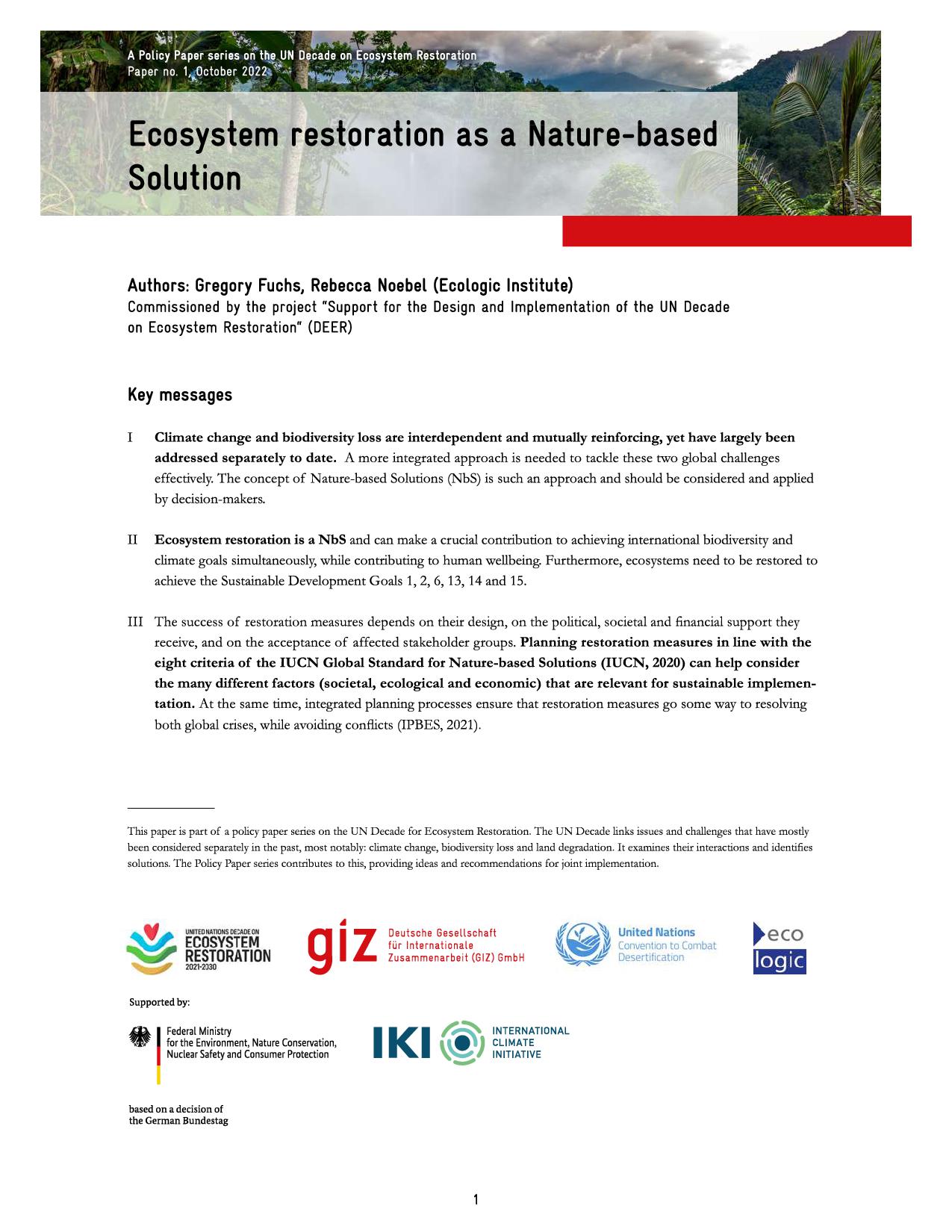 Ecosystem Restoration as a Nature-based Solution
Publication

Citation

Fuchs; Gregory; Noebel, Rebecca (2022): Ecosystem restoration as a Nature-based Solution. Deutsche Gesellschaft für Internationale Zusammenarbeit (GIZ) GmbH, Bonn.
Climate change and biodiversity loss are interdependent and mutually reinforcing yet have largely been addressed separately to date. A more integrated approach is needed to tackle these two global challenges effectively. The concept of Nature-based Solutions (NBS) is such an approach and is increasingly considered and applied by decision-makers. Ecosystem restoration is a key NBS and can make a crucial contribution to achieving international biodiversity and climate goals simultaneously while contributing to human well-being.
Based on policy developments and scientific evidence, this paper provides an overview of ecosystem restoration as a nature-based solution to address societal challenges. It highlights the role of the UN Decade for Ecosystem Restoration in this and outlines a policy context that situates the development of NBS in the policy discourse. The different types of restoration activities in a continuum of practices are highlighted. In this context, the role of ecosystem restoration in achieving global biodiversity goals is discussed and the paper highlights global restoration initiatives and common standards for restoration activities. These include the IUCN NBS Global Standard and the Ten Principles of Ecosystem Restoration, which are considered and compared. Costs and funding sources for restoration activities are also examined.
The policy brief provides policy recommendations to further strengthen and mainstream NBS and for the effective implementation of ecosystem restoration measures. This includes how NBS can be used across conventions to bridge biodiversity and climate issues and strengthen it as a planning and implementation tool. The success of restoration measures depends amongst others on their design, on the political, societal and financial support they receive, and on the acceptance of affected stakeholder groups.
Contact