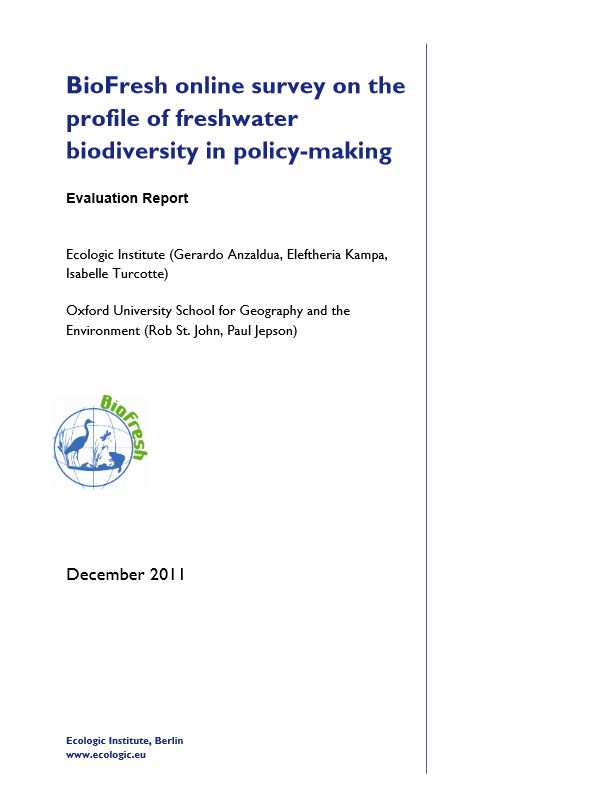 BioFresh Survey on Freshwater Biodiversity in Policy-making
Evaluation Report
Publication

Citation

Gerardo Anzaldua, Eleftheria Kampa, Isabelle Turcotte, Rob St. John, Paul Jepson 2011: BioFresh online survey on the profile of freshwater biodiversity in policy-making - Evaluation Report. Ecologic Institute, Oxford University School for Geography and the Environment, Berlin.
Between June and August 2011, BioFresh Team members from Ecologic Institute and Oxford University School of Geography and the Environment undertook an online survey of stakeholders' opinions of the status and policy profile of freshwater biodiversity in policy-making and of various communication channels that link science and policy. The evaluation report is available for download.
Fifty-two stakeholders from different sectors/policy areas who have been active primarily on water and biodiversity issues in the past years participated in the survey. A significant proportion of respondents belonged to national government agencies (29%), international NGOs (15%) and universities/research institutes (13%).
Some of the main insights gathered were:
Perceptions of policy relevance of freshwater biodiversity
48% of respondents view freshwater biodiversity as a recognised policy issue but given little attention, suggesting that freshwater biodiversity is not yet a well established policy issue.
The most promising ways to raise the policy profile of freshwater biodiversity are suggested to be: the provision of evidence on the value of freshwater biodiversity (especially by recognition and demonstration of ecosystem services), perception-based work targeting the policy communities and the general public as well as better integration of freshwater biodiversity in the implementation of other policies (esp. Water Framework Directive, agri-environmental policies and biodiversity (conservation) policies).
Relevance of policy-orientated science questions generated by BioFresh project
Certain policy-orientated science questions generated by the BioFresh consortium were highlighted by survey respondents as highly policy-relevant. These questions encompassed the linking of ecosystem function and ecosystem services, multi-scale conservation planning and freshwater biodiversity and ecosystem response to climate change.
Conversely, questions regarding the formation and consequences of novel freshwater ecosystems, the value of eco-informatics and the framing and perception of freshwater biodiversity were rated as of limited/less policy-relevance. It could be argued that these important topics within the scientific community are relatively new concepts for the policy communities. Awareness-raising efforts on these topics remain important because of their potential value to policy decisions.
Channels of communication between science and policy
Efforts to disseminate scientific information to policy-relevant communities should concentrate on communication channels which are considered as most effective. These are, according to respondents' ratings, face-to-face briefings, policy briefs, and conferences/workshops, and to a lesser extent newspapers/magazine articles. Further work on the value of new media, especially blog posts and YouTube style videos, is also recommended.
This project is part of the Ecologic Institute's contribution to the International Year of Biodiversity 2010.
Contact