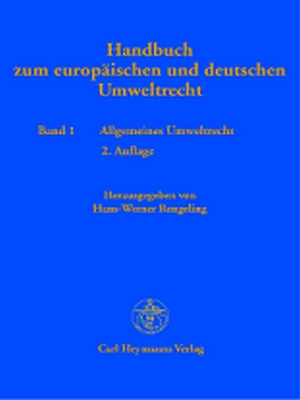 Klimaschutz und Recht
Publication

Citation

Bail, Christoph; Simon Marr and Sebastian Oberthür 2003: "Klimaschutz und Recht", in: Hans-Werner Rengeling (ed.): Handbuch zum europäischen und deutschen UmweltrechtBand II: Besonderes Umweltrecht (1. Teilband)]. Köln, Berlin: Carl Heymanns Verlag KG, 254-304.
Simon Marr and Sebastian Oberthür have together with Christoph Bail co-authored a chapter which has been published in one of the leading German handbooks on European and German environmental law. The chapter, entitled "Climate protection and law", appears in the Handbuch zum europäischen und deutschen Umweltrecht, which is edited by Hans-Werner Rengeling.
In their chapter the authors provide a comprehensive overview of the international, European and German climate protection regime. Following the climate negotiations which took place in Bonn and Marrakech in 2001, the climate protection regime has undergone a dynamic change. The Marrakech Accords set out a particularly complex legal text which further developed the Kyoto Protocol, and which will be necessary to implement on the European and national level once the Kyoto Protocol enters into force. The authors, who participated at the climate negotiations, highlight the most prominent developments in international climate protection law and its political context. In addition, they point out the most important recent developments on the European and German level as regards policies and measures of climate protection.
Contact