The Transatlantic Trade and Investment Partnership - Impacts on the Clean Energy Economy
Event

Date

Location

New York, United States
Cultural Vistas and Ecologic Institute held a conversation on the Transatlantic Trade and Investment Partnership and the Clean Energy Economy on Thursday, April 25 2013 from 6:00 to 8:00 pm in the Cultural Vistas Headquarters in New York. The discussion focussed on the Transatlantic Trade and Investment Partnership (TTIP) and its potential economic and political effects, as well as the impact on the evolution of the clean energy economy.
The United States and the Member States of the European Union are already among the world's largest trading partners boasting the largest amount of direct investment. Investments by American companies in the EU account for millions of jobs; their European counterparts do the same.
Following President Obama's re-election, however, much has been made of a possible free trade and investment agreement between the United States and the EU, which would eliminate remaining tariffs and smooth non-tariff barriers to trade, strengthen rules-based investment, and harmonize rules and standards. These effects would further boost trade and economic activity across the Atlantic. The implications of an agreement could have a significant impact on the evolution of the clean energy economy, particularly in terms of energy technologies and agriculture.
The discussion was led by Michael Mehling, former President of the Ecologic Institute and Sam Natapoff, President of Empire Global Ventures, a firm specializing in international trade and investment development.
Mr. Mehling currently serves on the Board of the International Union for Conservation of Nature and Natural Resources - United States and is a member of Climate Strategies, an international research network focusing on climate and energy policy.
Dr. Natapoff, meanwhile, is a member of the Board of Directors of the United Nations Development Corporation and previously served as Senior Advisor to the Governor of New York State for International Commerce.
The evening brought together individuals in the fields of international finance and trade and sustainable development from diverse sectors, including nonprofits, international organizations, government and academia.
This event was made possible through generous funding and support from the German Information Center.
Contact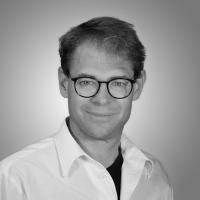 Sören Haffer
Coordinator Transatlantic Events
Senior Event Manager