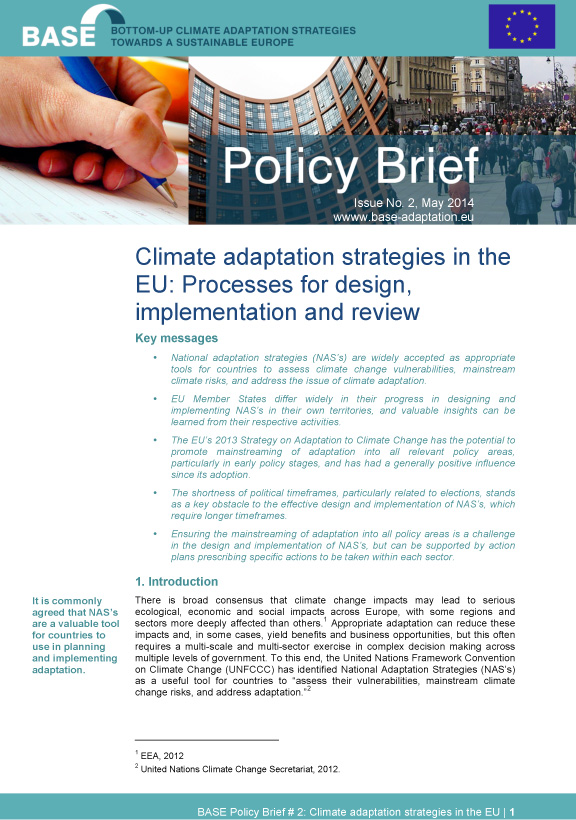 Climate Adaptation Strategies in the EU BASE – BASE Policy Brief # 1
Processes for design, implementation and review
Publication

Citation

Capriolo, Alessio et al. 2014. Climate adaptation strategies in the EU: Processes for design, implementation and review. BASE Policy Brief # 1.
How are Member States in the EU implementing National Adaptation Strategies (NAS's)? How do their approaches differ, and what lessons can we learn? Using case studies from across Europe, this policy brief analyses processes for designing, implementing and reviewing NAS's. It identifies the positive role being played by the EU Adaptation Strategy in influencing NAS implementation, while also identifying shared challenges, including those related to short political timeframes and concretely realizing mainstreaming of climate adaptation into all sectors.
This policy brief is an output of the EU FP7 project "Bottom-up Climate Adaptation Strategies Towards a Sustainable Europe" (BASE) and uses case study examples from the Czech Republic, Denmark, Finland, Italy, and Portugal. The examination of NAS's in Europe is complemented by an overview of the EU Adaptation Strategy, as well as the case studies examining municipal adaptation strategies in Denmark, Italy, and Portugal.
The policy brief [pdf, 1.6 MB, English] is available for download at the BASE Website.