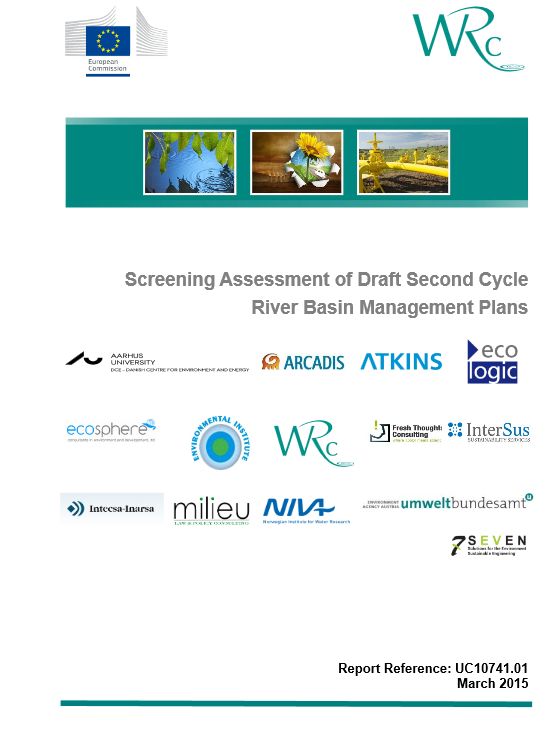 Screening Assessment of Draft Second Cycle River Basin Management Plans
Publication

Citation

Fresh Thoughts, Ecologic Institute, WRc (2015). Screening Assessment of Draft Second Cycle River Basin Management Plans. Consultant report commissioned by DG Environment, European Commission.
What progress have EU Member States made in implementing the Water Framework Directive between the first (2009) to the second cycle (2015) of river basin management planning? A consultant's report co-authored by Ecologic Institute is provides initial insights on the basis of a screening assessment of the second River Basin Management Plans draft, prepared for the fourth European Water Conference. The report is available for download.
The main focus of the 4th European Water Conference (23-24 March 2015, Brussels) was on lessons learned from the 1st Water Framework Directive (WFD) planning cycle, expectations for the 2nd planning cycle as well as on experiences in implementing the Floods Directive. The timing of the Conference coincided with the public consultations of the Member States on the draft 2nd River Basin Management Plans (RBMPs) and (some of) the draft Flood Risk Management Plans.
The aim of this consultant's report co-authored by Ecologic institute has been to sketch progress made from the 1st to the 2nd cycle RBMPs with respect to the European Commission's recommendations to Member States as outlined in the 4th implementation report on progress in implementation of the WFD Programme of Measures. The Commission's recommendations aim to assist Member States in identifying the areas where improvement in the implementation of the WFD is needed and expected as a matter of priority. This report outlines to which extent the recommendations have been implemented within selected draft 2nd RBMPs, the content of which has been screened for the purpose of this assessment. The results presented are not a "final" assessment but a first informal overview; they show the progress made but do not allow a ranking of RBMPs.
Contact