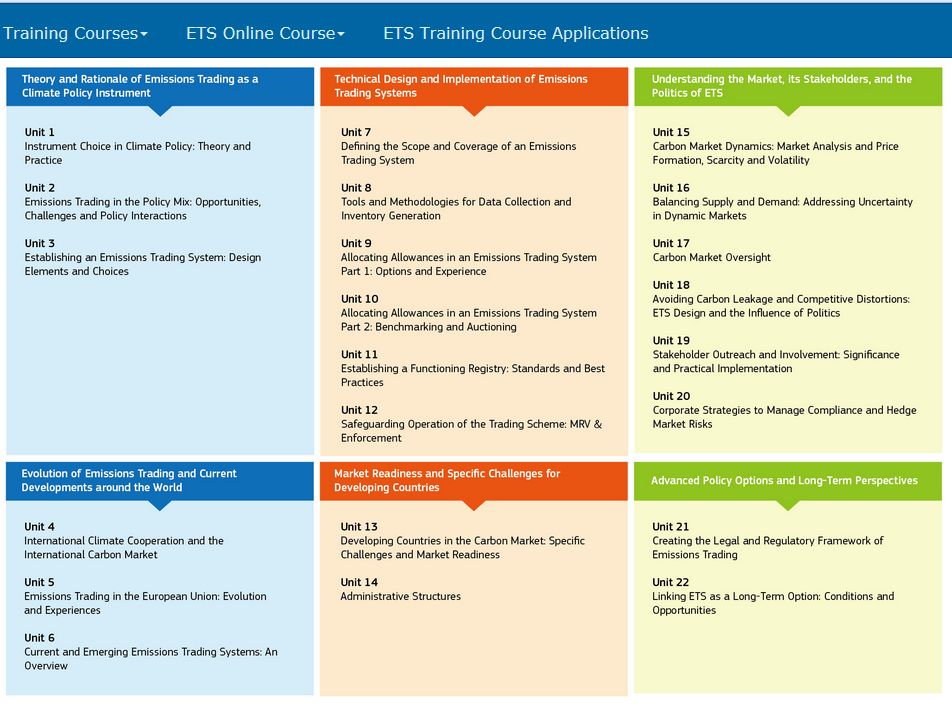 ETS E-Learning Online Course
Publication

Citation

Development Solutions, Ecologic Institute 2015: ETS E-Learning Online Course. Online: https://ec.europa.eu/clima/policies/ets/ets-summer-university/content/ets-e-learning-online-course
This online platform is part of an ongoing ETS Summer University program that helps to meet the growing need for improved understanding of emissions trading as an instrument of climate policy in emerging economies and developing countries. The curriculum and corresponding activities are organized into course modules, which allows for differentiation and flexibility in the learning process. Participants from all over the world learn the material online for free with the aid of supplementary webinars that feature interactive, question-and-answer sessions with subject matter experts. Ecologic is responsible for large parts of the course content and coordination among the subject matter experts.
Acknowledging that a format requiring physical attendance is insufficient to satisfy the current demand for capacity development and training, the eLearning platform offers scalability to larger audiences and ensure participant involvement and network-building beyond the duration of the training courses.
Structure of the ETS Online Course
This eLearning platform offers online tools for knowledge transfer, network building, and longer-term alumni involvement. Each of the online units is comprised of slides that include features such as pop-up windows, customised graphics, links to useful external resources, and unit quizzes designed to assess learners' understanding of key concepts. The ordering of the online course is arranged so that basic concepts are introduced in earlier units, while the later units provide specialised information about design and implementation of emissions trading systems (i.e. leakage and competitiveness; linking ETS).
Contact