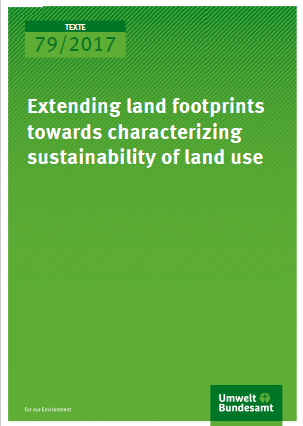 Extending Land Footprints Towards Characterizing Sustainability of Land Use
Publication

Citation

Günther Fischer et. al. 2017: Extending land footprints towards characterizing sustainability of land use. Dessau: Federal Environment Agency.
This report discusses extensions of area-based land foot-prints with meaningful impact-oriented indicators for the assessment of the effects of different con-sumption patterns on the ecosystems and sustainability of land use. First, existing indicators for representing the environmental impacts of land use are introduced in the context of their linkages and complementarity to area-based land footprints. The report discusses the following key indicators, which were identified as particularly relevant during an export workshop: System indicators, which qualify the area-based footprints across globally very different potential land productivities, deforestation footprint, energy use in agriculture, and irrigation water use in agriculture classified by degree of water scarcity. It introduces the methods developed for the quantification of system indicators for cropland and grassland footprints and for the deforestation footprint, and present results for Germany and the EU.
Contact