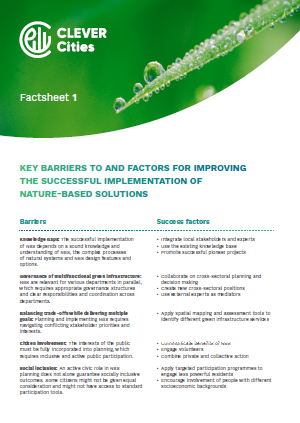 Key Barriers to and Factors for Improving the Successful Implementation of Nature-Based Solutions
CLEVER Cities Factsheet 1
Publication

Citation

Grimes, Clara and McKenna Davis (eds.) 2019: Key Barriers to and Factors for Improving the Successful Implementation of Nature-based Solutions. Factsheet 1. European Union's Horizon 2020 innovation action programme under grant agreement No 776604.
This CLEVER Cities factsheet outlines the main barriers and success factors for successful implementation of nature-based solutions. The CLEVER Cities factsheet No 1, edited by Ecologic Institute, is available for download.
The full length document "Barriers and success factors for effectively co-creating nature-based solutions for urban regeneration" [pdf, 744 kB, Englisch], upon which it is based, is available for download on the CLEVER Cities website.
Within the transdisciplinary research and implementation project "Co-designing Locally-tailored Ecological Solutions for Value-added, Socially Inclusive Regeneration in Cities (CLEVER Cities)", Ecologic Institute coordinates the development of the CLEVER Knowledge Framework, consisting of a series of targeted guidelines, factsheets, and checklists to guide project activities.
Contact