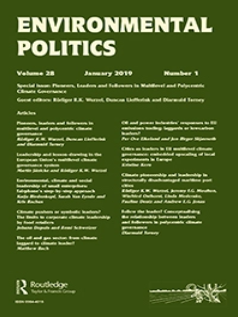 Climate Pioneership and Leadership in Structurally Disadvantaged Maritime Port Cities
Publication

Citation

Wurzel, Rüdiger; Moulton, Jeremy; Osthorst, Winfried; Mederake, Linda; Deutz, Pauline; Jonas, Andrew (2019): Climate pioneership and leadership in structurally disadvantaged maritime port cities. Environmental Politics 28(1): 146-166.
In this article, the authors, among them Ecologic Institute's Linda Mederake, assess innovative climate governance in small-to-medium-sized structurally disadvantaged cities (SDCs). Considering their deeply ingrained severe economic and social problems, it would be reasonable to assume that SDCs act primarily as climate laggards or at best as followers. However, novel empirical findings show that SDCs are capable of acting as climate pioneers. Different types and styles of climate leadership and pioneership and how they operate within multi-level and polycentric governance structures are identified and assessed. SDCs seem relatively readily willing to adopt transformational climate pioneership styles to create 'green' jobs, for example, in the offshore wind energy sector and with the aim of improving their poor external image.
Contact