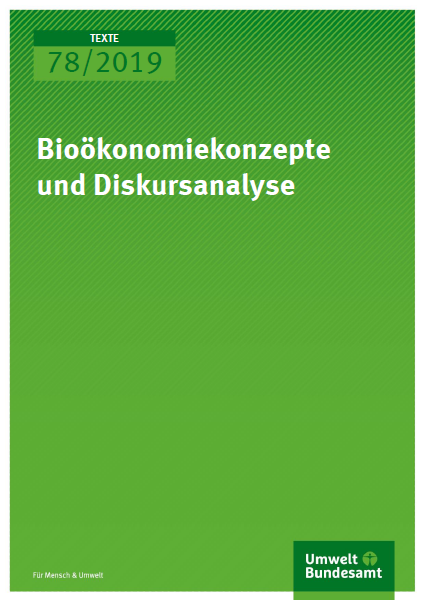 Bioökonomiekonzepte und Diskursanalyse
Publication

Citation

Kiresiewa, Zoritza et. al. 2019: Bioökonomiekonzepte und Diskursanalyse. Teilbericht (AP1) des Projekts "Nachhaltige Ressourcennutzung – Anforderungen an eine nachhaltige Bioökonomie aus der Agenda 2030/SDG-Umsetzung". Umweltbundesamt: Dessau-Roßlau.
The bioeconomy has gained high political importance as a way to overcome economic, ecological and social challenges: by 2019, more than 50 dedicated and bioeconomy-supporting policy strategies had been published worldwide. At the same time, the concept of the bioeconomy and its many conflicting goals is sometimes discussed controversially. This research report examines the concrete goals of bioeconomy policies, which actors are involved, which positions these actors take, which arguments for and against bioeconomy strategies are used, and which ethical implications the promotion of the bioeconomy could have.
In this report, Zoritza Kiresiewa and Marius Hasenheit of Ecologic Institute analyse bioeconomy strategies and actors. The analysis showed that the 'bioeconomy visions' presented in the strategy papers are generally only roughly defined. The predominant vision is of a new form of economy that uses biomass instead of fossil resources as a raw material for the production of fuels, electricity, chemicals, plastics and textiles. The strategy papers also list various environmental issues, such as the substitution of fossil resources by biological ones, nature conservation and the sustainable use of natural resources. However, these are generally not emphasised.
In general, the bioeconomy is characterised by a highly fragmented landscape of actors. As a rule, the various groups of actors favour the development path that best suits their interests. Accordingly, there are conflicting objectives - including competition for land and biomass ("plate vs. tank"), increasing demand for biomass (expansion & intensification of agricultural use) and biomass use through biotechnology applications that meet nature conservation requirements. These conflicting objectives are addressed in the strategy papers with different weightings, but hardly resolved.
The analysis of the current bioeconomy discourse in Germany, conducted by Öko-Institut,  shows a strong polarisation and can be divided into three (indistinguishable) partial discourses:
an affirmative discourse, which emphasises the opportunities offered by bioeconomy;
a pragmatic discourse, which weighs the opportunities and risks of the bioeconomy against each other and calls for stringent sustainability standards;
a critical discourse, which combines more ecological and social risks than opportunities with the current concept of the bioeconomy and calls for more fundamental change.
The report is available for download.
Contact