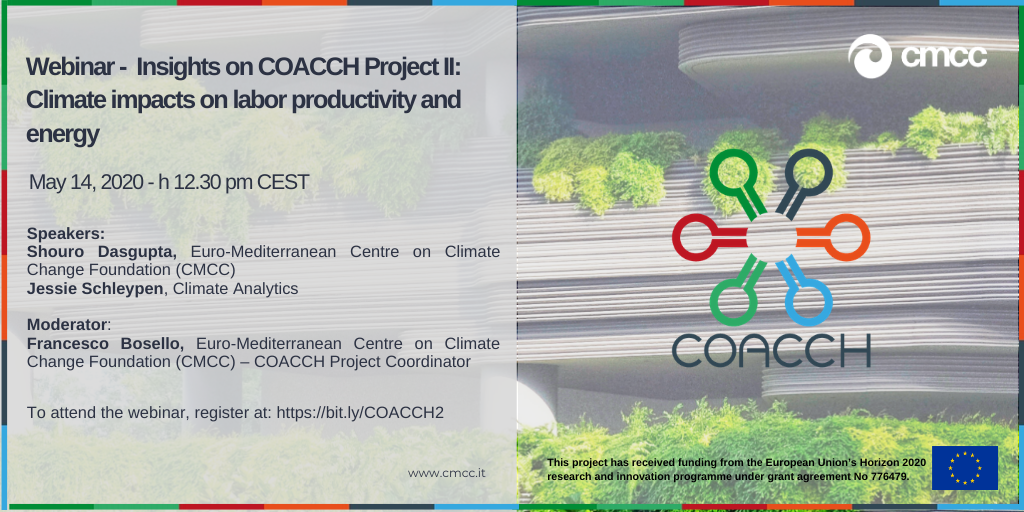 Climate Impacts on Labor Productivity and Energy
Event

Date

Location

online

Speaker

Shouro Dasgupta (CMCC Foundation)

Jessie Schleypen (Climate Analytics)
COACCH Project (CO-designing the Assessment of Climate Change Costs) has launched a webinar series to share its results on economic assessment of climate change and adaptation. The second COACCH webinar was held on 14 May 2020 and focused on "Insights from the COACCH project II: Climate impacts on labor productivity and energy." The webinar presented results on sectoral economic assessments.
Speakers were Shouro Dasgupta (CMCC Foundation) and Jessie Schleypen (Climate Analytics) moderated by Francesco Bosello (CMCC Foundation and COACCH Project Coordinator).
More information can be found on the CMCC's webinar website.
The objective of the COACCH (CO-designing the Assessment of Climate CHange costs) project is to produce improved downscaled assessment of the economic costs of climate change in Europe. As part of dissemination activities, the COACCH project is organising a series of webinars on emerging results. The series will include four episodes, starting from Spring 2020 until Spring 2021. Ecologic Institute has an important involvement in stakeholder engagement and the overall co-design process of the project.
Contact