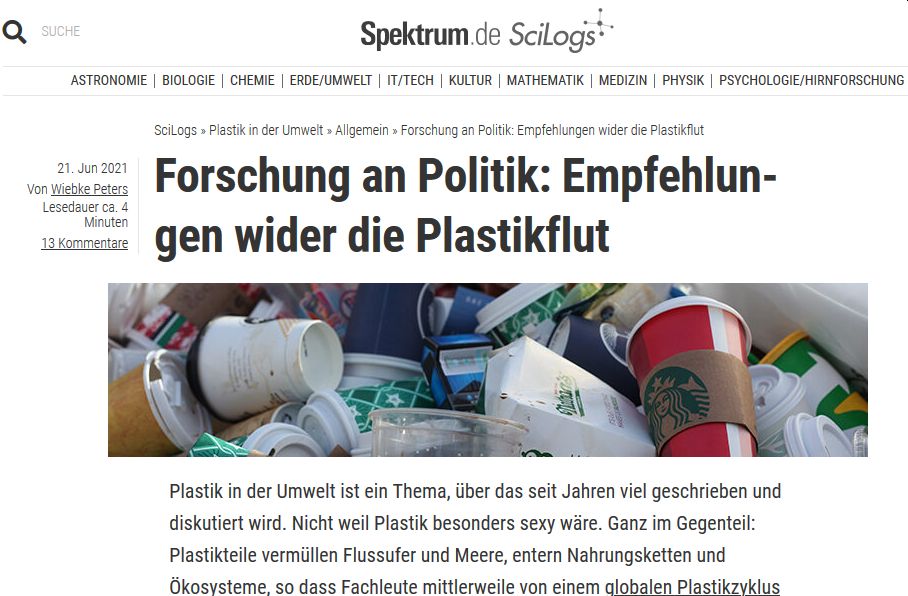 BLOG: Plastics in the environment
Scientific findings on the sources, distribution, impact and treatment of plastics
News

Date
In this blog we present the most exciting, innovative, current and urgent findings from the research focus "Plastics in the Environment". Plastic waste in the environment is a global problem with unforeseeable ecological consequences. Yet we still know far too little about how plastic enters the environment, how it spreads in rivers, oceans and in the soil and how it affects humans and animals.
In order to close these knowledge gaps, Germany's Federal Ministry of Education and Research launched the research priority "Plastics in the Environment - Sources - Sinks - Solutions" in 2017. Since then, 20 innovative joint research projects involving more than 100 institutions from science, industry, public authorities and civil society have been researching the topic of plastics in the environment. The aim is to obtain an overall picture of the environmental impacts of plastics along their entire life cycle, from production to use to disposal, and also to find proposed solutions for politics and society. The Ecologic Institute leads the scientific accompanying research (PlastikNet) of the funding programme "Plastics in the Environment".
PlastikNet scientifically accompanies the 20 joint projects and supports networking through conferences and topic-specific workshops, as well as through synthesis and transfer activities across the projects. The Ecologic Institute is also responsible for public relations. As part of this, it provides the blog to make the scientific results accessible to a broad interested audience. New contributions are published about every two weeks.
Contact