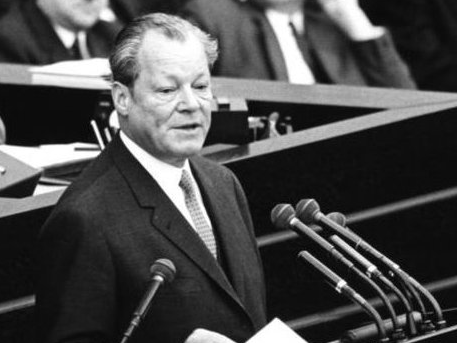 50 Years of Environmental Program
In 1971, the first environmental program of the Federal Republic of Germany lays the foundation for an environmental policy.
News

Date

Location

Berlin, Germany
On 14 October 1971, the Federal Republic's first environmental program was adopted under a social-liberal coalition government. It marks the beginning of an era of political responsibility for man-made changes in nature and the environment, but also the claim to let citizens participate in the political discourse on ecological issues. Finally yet importantly, the environmental program raises the environmental question to a question of social dimension. On the 50th anniversary of the Environmental Program, Ecologic Institute is conducting a contemporary historical study on German environmental policy since 1971 on behalf of the Federal Ministry for the Environment.
At the beginning of the 1970s, a department for environmental protection was created in the Ministry of the Interior and the first environmental program of a federal government was presented in 1971. Willy Brandt as Federal Chancellor and Hans-Dietrich Genscher as Minister of the Interior responsible for the introduction of the environmental policy development process, refer in the preface to the environmental program to the new Federal Republic that was to emerge, one that focused on cooperation and more long-term policy planning in environmental matters.
Under the impression of manifold ecological crises in the course of the 1960s and the emerging civil society environmental movement in North America and Great Britain, the Environmental Program was launched after the government declaration in 1969. It was, on the one hand, an immediate reaction to current ecological problems and, on the other hand, a bridge to the emerging international environmental policy that led to the United Nations Conference on the Environment in 1972.
The environmental program and its volume of material present the priority environmental issues of the 1970s as if in a burning glass. On the one hand, the far-sightedness of the need for action in water and marine protection, even beyond the national level, or on questions of environmental chemicals and biocides are remarkable. On the other hand, from today's perspective, the views on nuclear energy or factory farming are shocking. In addition, the environmental program proclaims the necessity of interdepartmental work, establishes international connections, and acts in a solution-oriented manner by linking measures and actors with the impetus of modernization and the social dimension of the environmental issue for the common good and the national economy, human dignity and human rights.
At the same time, the historical document makes it possible to understand deficits that environmental policy still has to deal with today and to draw conclusions and recommendations for action for future environmental policy at a time when a young generation of climate activists is vehemently advocating for intergenerational justice relations in a currently catastrophic environmental situation.
Contact