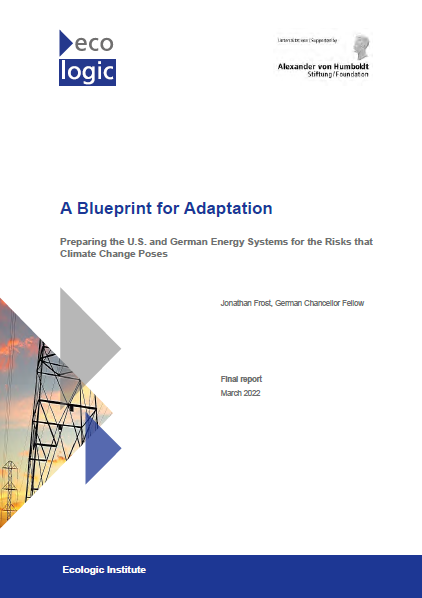 A Blueprint for Adaptation
Preparing the U.S. and German Energy Systems for the Risks that Climate Change Poses
Publication

Citation

Frost, Jonathan (2022): A Blueprint for Adaptation – Preparing the U.S. and German Energy Systems for the Risks that Climate Change Poses. Ecologic Institute, Berlin
Climate change poses an increasing threat to our electric system, which we rely on to support a high standard of living and to keep our economies functioning. Extreme weather events, sea level rise and wildfires not only expose vulnerabilities in our electric system but can have catastrophic impacts when combined with failures in high-voltage electric facilities.
The existing literature on climate policy and climate impacts on the economy is robust. However, there is a limited amount of research to date on the climate vulnerability of critical infrastructure sectors – which are vital for sustaining national security, public safety and national economic security – and in particular of the energy sector.
This report identifies various risks that climate change impacts pose to the critical electric infrastructure in Germany and the United States, including the generation, transmission and distribution facilities, and suggests a political course that both countries can follow. The American States of California and Texas are used as case studies in this report.
Some key findings include:
Extreme weather trends seen in recent decades, such as with growing wildfire and storm surge risk, are expected to accelerate as global temperatures and sea levels rise, and the climate becomes more unstable.
While climate adaptation and resilience policies have been in place for over a decade in both the U.S. and Germany, only more recently have some electricity companies begun to plan for longer-term climate impacts.
Thermal generation, including natural gas- and coal-fired power plants, and hydroelectric facilities are among the most vulnerable generation sources to climate change.
Overhead distribution infrastructure in many locations and utility infrastructure in coastal and river flood plains are the most vulnerable to climate change.
This report identifies 34 recommendations for the German, U.S. Federal Government and the state governments of California and Texas. At a high level, these recommendations include:
Engage in comprehensive vulnerability assessments through at least 2070 and prioritize adaptation and resilience measures. This should be conducted by both governments (primarily federal and state levels) and by the electricity generation, transmission, and distribution companies themselves.
Where information does not exist, such as an optimal mix of policies and incentives to meet various adaptation and resilience goals, governments should conduct studies and seek stakeholder input.
Buildings and infrastructure that are rebuilt post-disaster should be built back based on resilience standards so that they will be able to withstand future events. Like-wise, climate vulnerability assessments and resilience standards should apply to new facilities requiring permits.
Market mechanisms and incentives to increase resource adequacy and offset customer electricity demand where possible should be explored.
While the findings and recommendations pertain to the energy sector, the approach of proactively assessing vulnerabilities and prioritizing resilience measures is applicable to all sectors worldwide and to a broad scope of physical and cybersecurity risks.