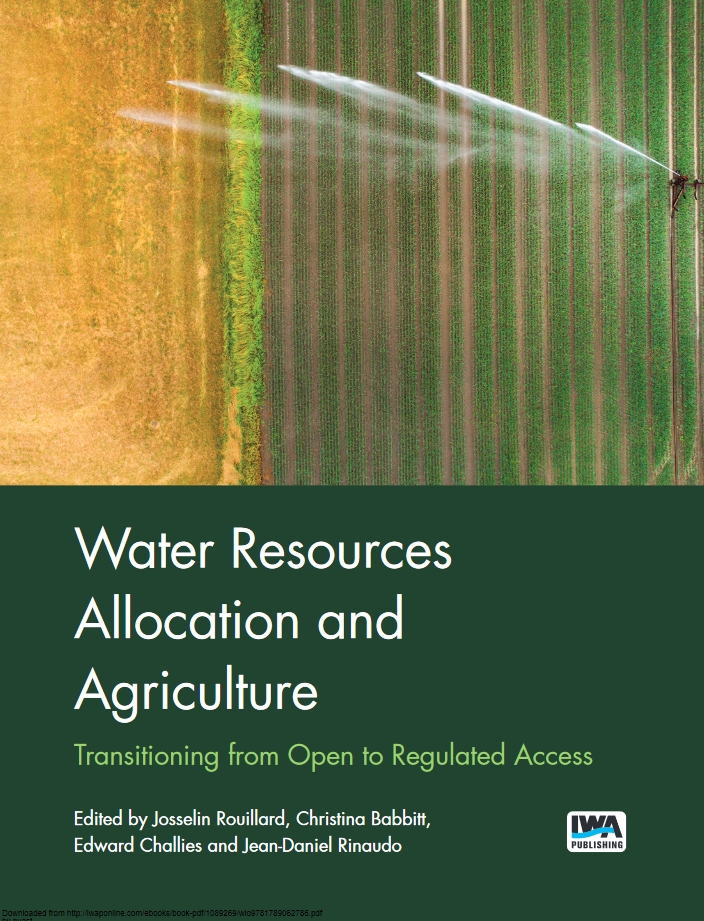 Water Resources Allocation and Agriculture
Transitioning from Open to Regulated Access
Publication

Citation

Rouillard Josselin et al. (eds.) 2022: Water Resources Allocation and Agriculture: Transitioning from Open to Regulated Access. London: IWA Publishing.
With economic growth and increased drought risk from climate change, competition over water is becoming more intense across the world, often to the detriment of the environment, leading to  the drying of rivers and lakes, falling groundwater tables, seawater intrusion and the loss of important ecosystem services for society. Livelihoods are disrupted and economic activity is damaged. There is an urgent need to better regulate water use and improve the sharing of scarce water resources to achieve fair, environmentally effective and economically efficient water allocations.
In this open access book, Dr. Josselin Rouillard together with Christina Babbitt (Environment Defense Fund, U.S.), Edward Challies (University of Canterbury, New Zealand) and Jean-Daniel Rinaudo (BRGM, France) compile an international account of water allocation policies supporting a transition to sustainable water use in regions where agriculture is the dominant water use.
The book brings together the experience and knowledge of more than 30 leading scholars and practitioners across the world in water allocation systems to present a comprehensive, novel and innovative account of water allocation in a range of international settings :
First, the book addresses five key crosscutting issues shaping the challenge of sustainable water allocation policy, such as legal and economic perspectives, the role of politics, the contributions of engineering and technology, the setting of environmental flows, and the importance of indigenous rights
Second, the book presents 13 national, state and transboundary case studies of water allocation policy, covering cases from Europe, the Americas, Central Asia, the Middle East and the Pacific region
In the conclusions, key lessons are drawn for the future design and implementation of water allocation policies. The book provides a reference point for practitioners and scholars worldwide wishing to draw on the latest advances on how to design and implement sustainable water allocation policies.
Contact