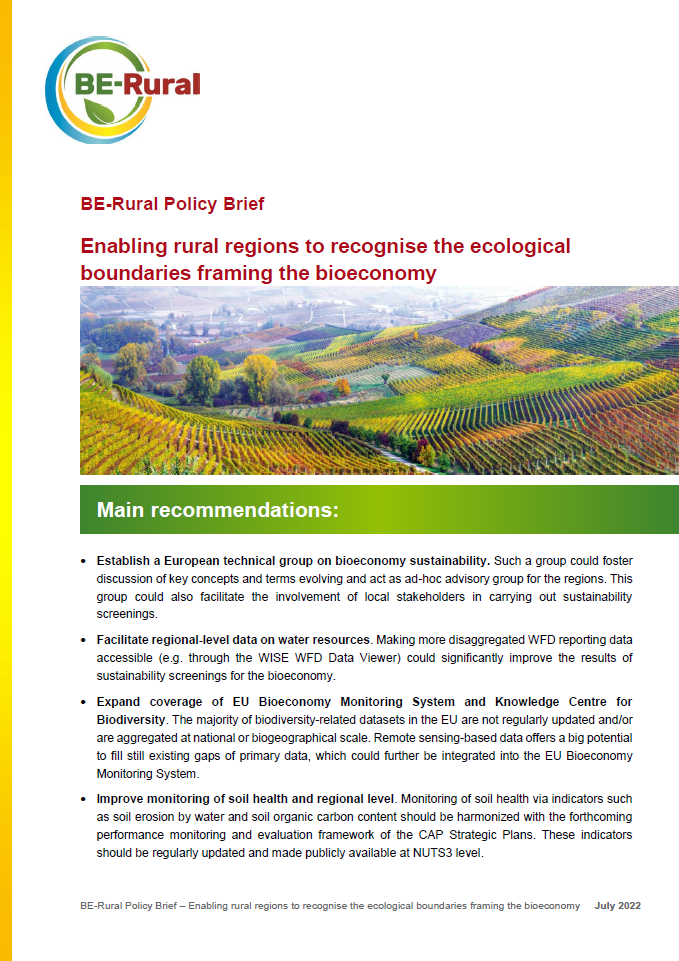 Enabling Rural Regions to Recognize the Ecological Boundaries Framing the Bioeconomy
Publication

Citation

Tarpey, J., Araujo, A. and Anzaldua, G. [Ed.] 2022: Enabling rural regions to recognise the ecological boundaries framing the bioeconomy. Policy Brief. Ecologic Institute.
As the EU Bioeconomy Strategy points out, regions are the most appropriate territorial level at which to implement bioeconomy strategies. However, the available and favoured methods for assessing bioeconomy potential and environmental impact are rarely framed within the regional scale. Further, among regions, it is highly likely that rural areas face disproportionate challenges to assess the ecological boundaries that frame their (bio)economies, as they are often lacking the resources and capacities to conduct Life Cycle Assessments (LCA) or similar evaluations. To contribute towards filling this gap, BE Rural developed and piloted a new framework to help decision makers consider ecological limits when drafting regional bioeconomy strategies and roadmaps, and with this to contribute to Priority 3 of the EU Bioeconomy Strategy: "Understand the ecological boundaries of the bioeconomy".
The framework was developed iteratively and incrementally based on initial desk research supplemented by experience gathered during pilot implementations in the Stara Zagora region (Bulgaria) and the Vidzeme region (Latvia). A full description of the methodology and the results of the pilots is available on the project website. The pilots of the Sustainability Screening have shown its potential when combined with local knowledge. They also illustrated clearly the range and level of challenges that future users of this approach would encounter. On this basis, the following recommendations are drawn:
Establish a European technical group on bioeconomy sustainability. Such a group could foster discussion of key concepts and terms evolving and act as an ad hoc advisory group for the regions. This group could also facilitate the involvement of local stakeholders in carrying out sustainability screenings.
Facilitate regional-level data on water resources. Making more disaggregated WFD reporting data accessible (e.g. through the WISE WFD Data Viewer) could significantly improve the results of sustainability screenings for the bioeconomy.
Expand coverage of EU Bioeconomy Monitoring System and Knowledge Centre for Biodiversity. The majority of biodiversity-related datasets in the EU are not regularly updated and/or are aggregated at national or biogeographical scale. Remote sensing-based data offers a big potential to fill still existing gaps of primary data, which could further be integrated into the EU Bioeconomy Monitoring System.
Improve monitoring of soil health at regional level. Monitoring of soil health via indicators such as soil erosion by water and soil organic carbon content should be harmonized with the forthcoming performance monitoring and evaluation framework of the CAP Strategic Plans. These indicators should be regularly updated and made publicly available at NUTS3 level.
Contact