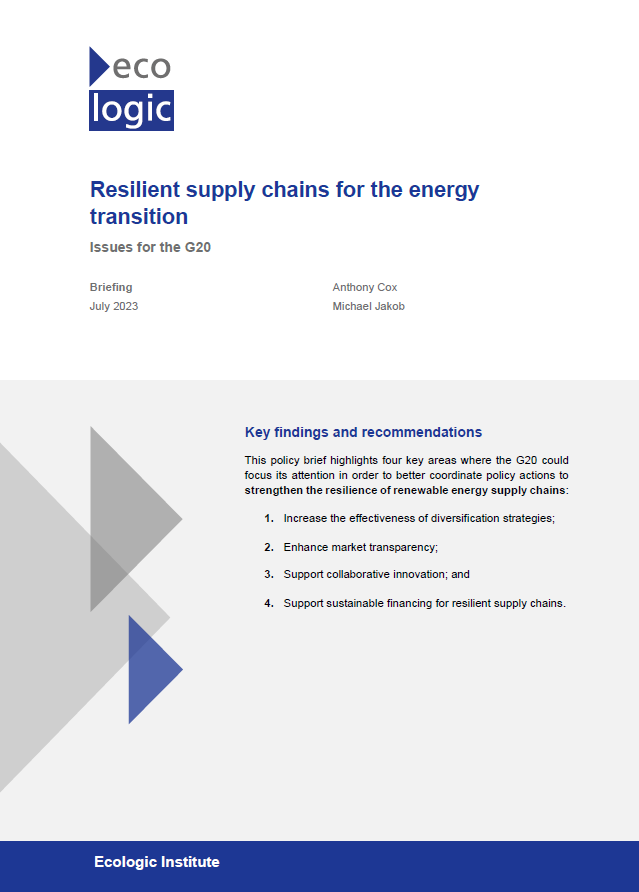 Resilient Supply Chains for the Energy Transition
Issues for the G20
Publication

Citation

Anthony Cox and Michael Jakob (2023): Resilient Supply Chains for the Energy Transition: Issues for the G20. Ecologic Institute, Berlin.
Since the signing of the Paris Agreement in 2015, global efforts towards achieving net zero emissions have been intensifying. However, progress has been sluggish, and current pledges and commitments fall far short of what is needed to limit global temperature rise to 1.5 °C by 2050. To achieve net zero emissions worldwide, a substantial deployment of renewable energy technologies and resilient supply chains is essential. This policy brief examines the critical role that the G20 can play in promoting cooperation and coordination to enhance the resilience of renewable energy supply chains.
Geopolitical Interest and Demand for Critical Minerals
The increasing demand for critical minerals, including rare earth elements, copper, cobalt, nickel, and lithium, which are integral to renewable energy technologies, has drawn the attention of policymakers and businesses. Factors such as the lingering economic effects of the pandemic and geopolitical tensions, exemplified by the Russian invasion of Ukraine, have further heightened the interest in renewable energy supply chains.
The G20 as a Catalyst for Policy Coordination
As a key platform for major global economies, the G20 has the potential to drive collaboration and policy coherence on issues related to renewable energy supply chain resilience. The Bali Energy Transitions Roadmap, adopted during the Indonesian G20 Presidency in 2022, marked a positive step in this direction. However, the identified actions lack prioritization, remain voluntary, and are subject to successive G20 Presidencies. A focused effort within the G20 is crucial to accelerate the energy transition.
Key Areas for G20 Attention
This policy brief emphasizes four key areas where the G20 can concentrate its efforts to coordinate policies and strengthen the resilience of renewable energy supply chains:
Increase the effectiveness of diversification strategies: Encouraging the diversification of critical mineral supply sources and reducing overreliance on specific regions will enhance supply chain resilience.
Enhance market transparency: Promoting greater transparency in critical mineral markets, including supply and demand dynamics, pricing, and trade flows, will enable better-informed decision-making and reduce market uncertainties.
Support collaborative innovation: Facilitating international collaboration and knowledge-sharing on research, development, and deployment of renewable energy technologies will accelerate innovation and improve supply chain resilience.
Support sustainable financing for resilient supply chains: Developing financial mechanisms and incentives to promote sustainable investments in renewable energy supply chains will ensure long-term resilience and minimize environmental and social risks.
Contact