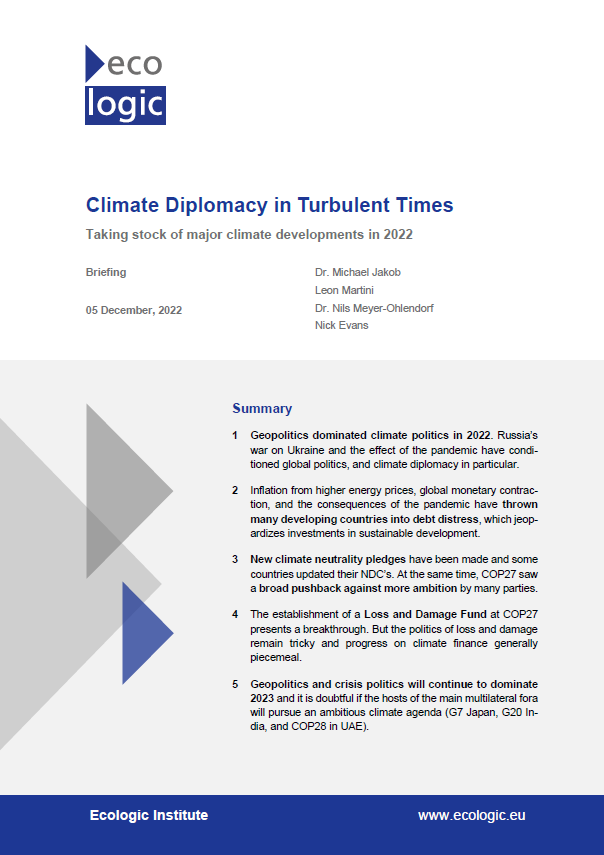 Climate Diplomacy in Turbulent Times
Taking stock of major climate developments in 2022
Publication

Citation

Jakob, Michael et al. 2022: Climate Diplomacy in Turbulent Times. Taking stock of major climate developments in 2022. Berlin: Ecologic Institute
2022 has been a challenging year for climate diplomacy. As the global pandemic headed into its third year, Russia's war of aggression against Ukraine has sent a shockwave through global politics, throwing the geopolitical status quo into disarray. The crises resulting from pandemic and war created headwinds for climate diplomacy. This briefing by Michael Jakob and colleagues' reviews some of the major developments in global climate politics in the past year and looks ahead to 2023.
The briefing first takes stock of progress on NDCs and then reviews developments in plurilateral initiatives such as the G7 Climate Club and the Just-Energy-Transition-Partnerships. It discusses major developments within the UNFCCC process on mitigation, adaptation, and climate finance. Lastly, it zooms in on some key domestic climate breakthroughs and looks ahead to 2023.
The key messages are:
Geopolitics dominated climate politics in 2022. Russia's war on Ukraine and the effect of the pandemic have conditioned global politics, and climate diplomacy in particular.
Inflation from higher energy prices, global monetary contraction, and the consequences of the pandemic have thrown many developing countries into debt distress, which jeopardizes investments in sustainable development.
New climate neutrality pledges have been made, and some countries updated their NDCs. At the same time, COP27 saw a broad pushback against more ambition by many parties.
The establishment of a Loss and Damage Fund at COP27 presents a breakthrough. But the politics of loss and damage remain tricky, and progress on climate finance generally piecemeal.
Geopolitics and crisis politics will continue to dominate 2023, and it is doubtful if the hosts of the main multilateral fora will pursue an ambitious climate agenda (G7 Japan, G20 India, and COP28 in the UAE).
Contact