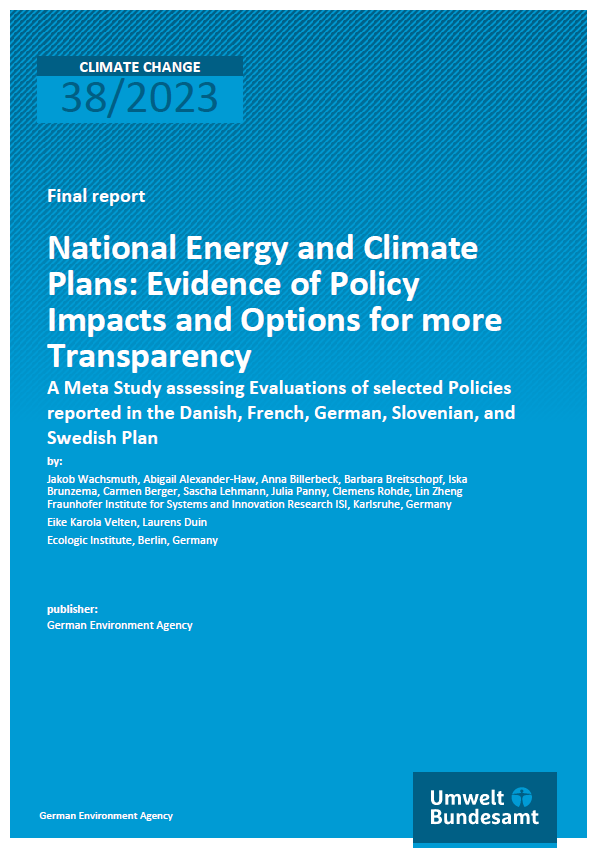 National Energy and Climate Plans: Evidence of Policy Impacts and Options for more Transparency
Publication

Citation

Wachsmuth, Jakob et al. 2023: National Energy and Climate Plans: Evidence of Policy Impacts and Options for more Transparency. A Meta Study assessing Evaluations of selected Policies reported in the Danish, French, German, Slovenian, and Swedish Plan. Final report. Dessau-Roßlau: German Environment Agency.
This study aims to contribute to the further development of the Member States' reporting to the EU with regard to the National Energy and Climate Change Plans (NECPs), especially with regard to the national progress reports, the NECP updates and a possible revision of the Governance Regulation.
The study was designed as a meta-analysis of the current state of knowledge regarding the methodology and impact of selected policies and measures (PaMs), following its appropriate preparation, by means of an analytical framework. The analysis was based on the example of the German NECP, taking into account the NECPs of Denmark, France, Sweden and Slovenia. In total, the authors examined a selection of 23 PaMs as well as ex-ante and ex-post evaluations that analysed the PaMs' impacts. The authors investigated, in particular, the methodology of ex-ante and ex-post evaluations, the contribution of selected PaMs to achieve the EU's climate protection and the energy transition targets adopted for 2030 as well as the socio-economic and further ecological impacts associated with the PaMs.
On this basis, the authors developed an in-depth understanding of the selected PaMs and the methodological and systemic uncertainties involved in their ex-ante and ex-post impact assessment. For this purpose, the authors discussed knowledge gaps, uncertainties, conflicts and synergies as well as political challenges, opportunities for action and obstacles to it. As a result, the authors have developed suggestions regarding the content requirements of NECP reporting, as well as suggestions that can improve the transparency and traceability of evaluation methods and impact assessments of PaMs.
Contact