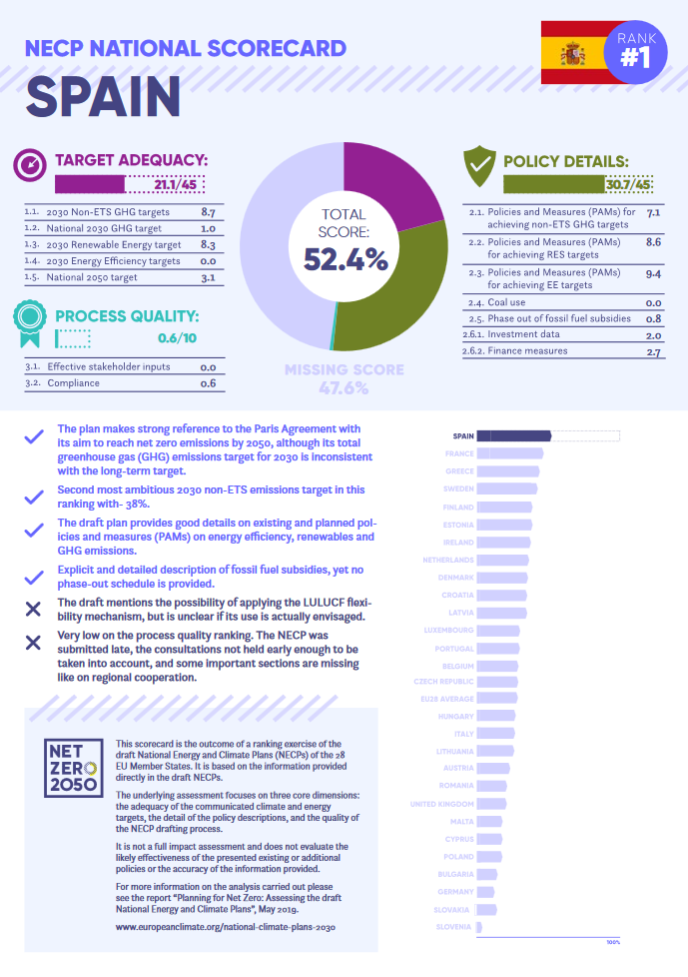 Planning for Net-zero: Assessing the Draft National Energy and Climate Plans
Publication

Citation

Duwe, Matthias; Eike Karola Velten, Nick Evans, Mona Freundt, Julien Pestiaux, Benoît Martin, Pascal Vermeulen (2019): Planning for net-zero: Assessing the Draft National Energy and Climate Plans. Berlin, Louvain-la-Neuve, Bruessels.
A report by Ecologic Institute and Climact shows that the draft National Energy and Climate Plans presented by governments at the start of 2019 are in acute need of improvement. They suffer from inadequate targets and insufficient details on the policies and financing needed to move towards net-zero emission economies in Europe. Member States also need to do better in involving their national stakeholders in providing input to the plans, to benefit from their expertise and to get them on board for future policies. Good practice examples exist around the EU to serve as inspiration for the final plans due by the end of the year.
Achieving net zero emissions in the EU by 2050 will not come about without dedicated focus and planning. The NECPs are an opportunity for Member States to outline their present and future ambition on contributing to the net zero goal. The report 'Planning for net-zero: Assessing the Draft National Energy and Climate Plans', funded by the European Climate Foundation, evaluates, in which areas Member States need to improve. Three indicators, target adequacy, policy details and process quality, with several sub-indicators are used, to identify room for improvement.
This report finds that the draft NECPs fall short of reaping the opportunities and do not describe a robust, Paris-compliant pathway for Europe. The scoring shows that even the highest scoring plans remains at only half the potential, while the EU28 average is at less than a third. EU countries should, therefore, take the opportunity to substantially improve the plans by the end of the year when final versions are due for submission. However, here are reasons for optimism as this analysis identifies several good practices across the draft plans. It will be essential for national and EU policy-makers to explore these and inspire accelerated learning. Moreover, the European Commission should consider ways to reward robust and ambitious NECPs with dedicated financial and policy support.
Contact