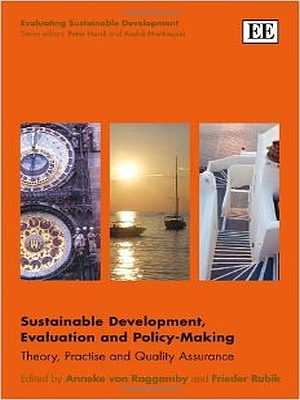 Quality Requirements for Sustainability Evaluations
Publication

Citation

Anneke von Raggamby, Frieder Rubik, Doris Knoblauch, Rebecca Stecker 2012: "Quality Requirements for Sustainability Evaluations", in: Frieder Rubik Anneke von Raggamby (ed.): Sustainable Development, Evaluation And Policy-Making. Theory, Practise and Quality Assurance. [Evaluating Sustainable Development series. Cheltenham: Edward Elgar Publishing Ltd., 209-240.
Sustainability aspects are often insufficiently considered, if at all, within standards for evaluations or impact assessments. This book chapter points out the challenges raised by sustainability evaluations and the aspects which should be added to existing evaluation standards.
The concept of sustainability is complex and, consequently, is not without its challenges. This also holds true for the growing field of evaluations. From a sustainability perspective, six issues were identified as lacking or requiring more attention within current evaluations:
Holistic approach: Sustainability not only includes different pillars (environment, economy, society) but also the mental linking between different levels (from global to local) and generations.
Long-term perspective: Although models provide useful tools to this effect, it remains difficult to predict the future. It is therefore a particular challenge to adequately consider a long-term perspective within evaluations.
Distributive justice: It is a challenge to distribute both goods and bads between different societal groups, especially given that these goods and bads are difficult to quantify. Sustainability evaluations should therefore include qualitative considerations regarding distributive justice.
Participation: Participation is an end in itself when it comes to sustainable development. In addition, participative processes can lead to a constructive use of feedback-loops.
Information problem: A particular challenge is the question of dealing with a lack of knowledge. The information problem becomes quite virulent with respect to sustainability evaluations since these should take both, a holistic approach as well as a long-term perspective.
Use of methods: The choice of a method, particularly to quantify issues, often influences the outcome of the evaluation. However, not all impacts can be quantified. The choice of a certain method should therefore not only be justified but also critically reflected.
Contact