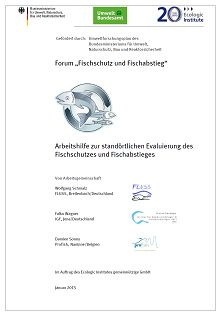 Arbeitshilfe zur standörtlichen Evaluierung des Fischschutzes und Fischabstieges
Publication

Citation

Schmalz, Wolfgang; Falko Wagner und Damien Sonny (2015): Arbeitshilfe zur standörtlichen Evaluierung des Fischschutzes und Fischabstiegs.
This manual focuses on the site specific evaluation of the efficiency of fish protection and bypass systems. Standardized evaluation principles are defined to promote significant, comparable studies. The manual constitutes a framework for an objective evaluation process. The developed planning, investigation and evaluation processes provide a base for consistent study results to improve the  scientific knowledge and to optimize effective site specific solutions.
Part 1 – Preparation, Application, and Evaluation of site specific studies
Part 1 of the manual focuses on the preparation and application of the field work and the final data analysis. The aim is to simplify the selection of appropriate sampling methods, sampling time and target fishes (species and development stage) to facilitate comparative studies. 22 target parameters are given as quantitative base for an evaluation of fish protection and bypass systems.
Part 2 – Methods for evaluating fish protection and bypass systems
Part 2 gives a broad overview over appropriate methods for field studies. The aim is to show the method specific fields of application in the evaluation process, the pros and cons for the method use and the suitability for quantifying the provided evaluation parameters.
Infographics illustrate the contents of the manual
The contents of the manual are illustrated by numerous infographics. The infographics are published under a creative commons license CC BY 4.0. That means you can copy and redistribute them in any medium or format and for any purpose as long as you give appropriate credit to the authors.
Contact