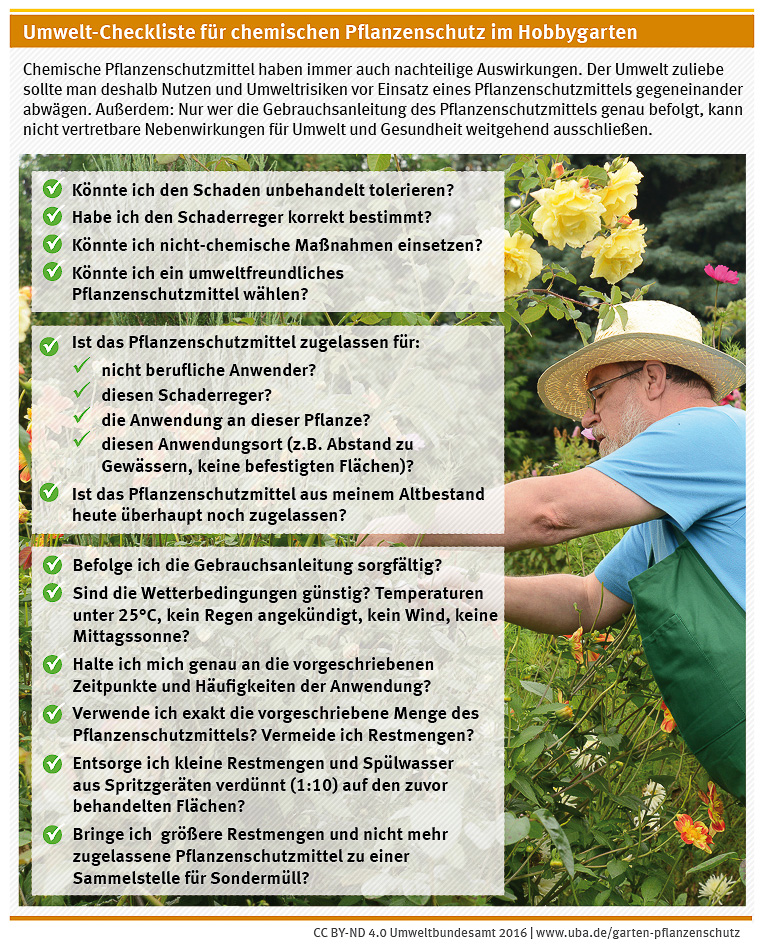 Umwelt-Checkliste für chemischen Pflanzenschutz im Hobbygarten
Publication

Citation

Umweltbundesamt (2016): Umwelt-Checkliste für chemischen Pflanzenschutz im Hobbygarten. Infographic. Online: https://www.umweltbundesamt.de/sites/default/files/medien/2618/bilder/psm_infografiken_umwelt-checkliste.jpg
This infographic identifies key points to be considered for eco-friendly plant protection in private gardens.
Chemical pesticides have always negative effects, too. Therefore, before using them you should compare their benefits and environmental risks. Not justifiable harm to health and environment can only be avoided if instructions for the use of pesticides are exactly followed.
The infographic is licensed under a Creative Commons license CC BY-ND 4.0, which means that you may freely use it unchanged and mentioning the author. The infographic is part of a series of nine infographics on environmentally friendly plant protection, which were developed by the Ecologic Institute in the project Online Information Service: Environmentally Compatible Plant Protection.
Contact