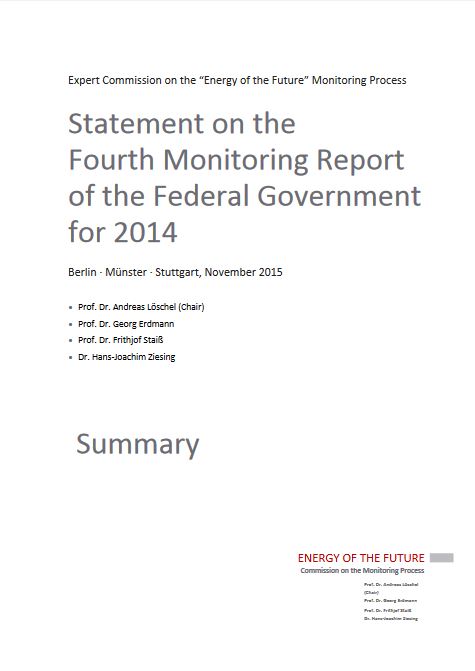 Statement on the Fourth Monitoring Report of the Federal German Government for 2014
Expert Commission on the "Energy of the Future" Monitoring Process
Publication

Citation

Löschel, Andreas, Georg Erdmann, Frithjof Staiß, Hans-Joachim Ziesing 2015: Statement on the Fourth Monitoring Report of the Federal German Government for 2014. Summary. Berlin, Münster, Stuttgart.
In November 2015, the joint statement of the Expert Commission on the "Energy of the Future" Monitoring Process was published. Ecologic Institute provides scientific support to the work of the Expert Commission with a focus on the key topics that Dr. Hans-Joachim Ziesing and the Expert Commission selected for their joint statement. The English summary of the report is available for download.
The independent Expert Commission, composed of Prof. Dr. Andreas Löschel, Prof. Dr. Georg Erdmann, Prof. Dr. Frithjof Staiß and Dr. Hans-Joachim Ziesing, provides scientific support and deliveres a joint statement on the goverment's monitoring process "Energy of the Future". The government implemented the monitoring process to keep track of targets of the German "Energiewende".
The whole report in German, as well as the reports of the previous years are available through the homepage of the Federal Ministry for Economic Affairs and Energy.
Contact