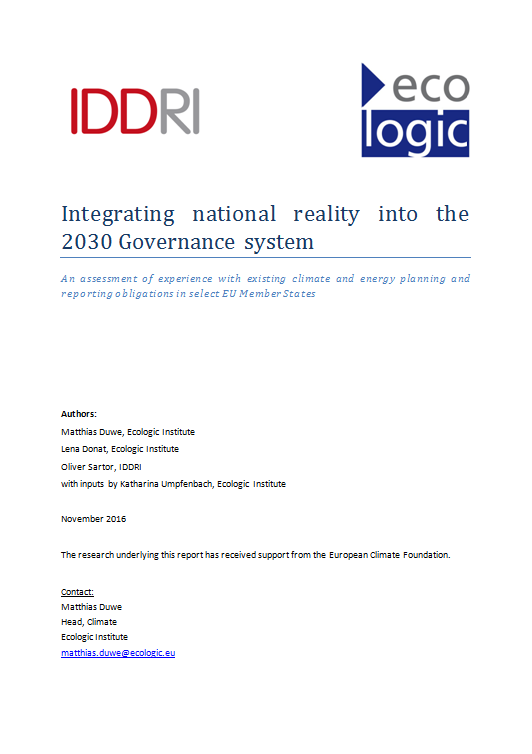 Integrating National Reality into the 2030 Governance System
An assessment of experience with climate and energy planning and reporting in select EU Member States
Publication

Citation

Duwe, Matthias; Donat, Lena; Sartor, Oliver; Umpfenbach, Katharina (2016): Integrating national reality into the 2030 governance system. Ecologic Institute: Berlin, Institute for Sustainable Development and International Relations (IDDRI): Paris.
To ensure that the aims of the 2030 EU climate and energy framework are met, European leaders agreed to establish a new governance system based an enhanced scheme for national planning and reporting (P&R). In the context of on-going policy discussions surrounding these so-called National Energy and Climate Plans (NECPs), this paper investigates EU Member States' experiences with the existing P&R obligations and identifies important lessons to be considered in the development of the new system. The paper is available for download.
Drawing from desk research and interviews with national experts from select EU countries, the authors examine two examples of current P&R requirements relevant to climate and energy, namely the National Energy Efficiency Action Plans (NEEAPs) and emissions projections under the Monitoring Mechanism Regulation (MMR). The paper discusses the successes and shortcomings of the P&R requirements under the current governance system at the EU and Member State levels, including whether planning has been employed successfully, which institutional arrangements work and which do not, the degree or lack of stakeholder involvement and interactions between national and EU agencies.
Informed by past experiences, the paper outlines a set of seven key lessons that should be taken into account in the design of the new 2030 governance system. To this end, the authors also identify challenges and open questions going forward. The paper is available for download.
Key lessons are discussed further in the publication:
Lesson 1: EU obligations should act as an impulse for national policymaking
Lesson 2: National plans will require inter-agency coordination, for which Member States must be prepared
Lesson 3: Adequate support should be given to Member States regarding reporting, data collection, input and methodology
Lesson 4: Stakeholders engagement should be established explicitely in the plans
Lesson 5: Plans must incorporate a long-term dimension, looking beyond 2030
Lesson 6: Plans should combine back-casting and (forward) projections to help inform policy making
Lesson 7: Follow-up and monitoring of plans must be mandatory, transparent and facilitate interaction between Member States and EU institutions
Contact