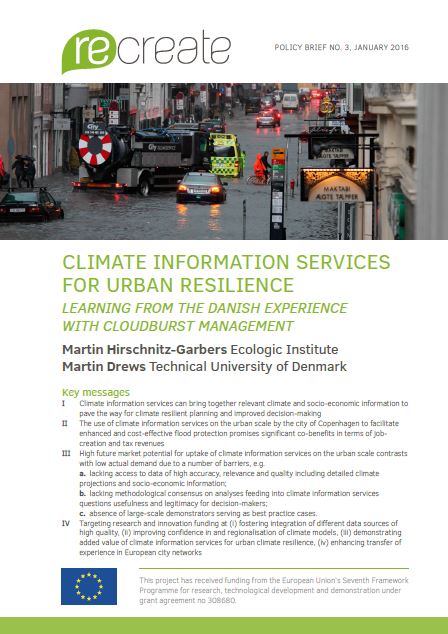 Climate Information Services for Urban Resilience
Learning from the Danish experience with cloudburst management
Publication

Citation

Hirschnitz-Garbers, Martin and Martin Drews (2016). Climate Information Services for urban resilience. Learning from the Danish experience with cloudburst management. RECREATE Project Policy Brief No. 3.
Policy Brief no.3 examines the case of using Climate information Services to increase urban resilience, learning from the Danish experience with Cloudburst management. It is based on one of the detailed narratives carried out for the RECREATE project. The policy brief is available for download.
Climate information services (CIS) can provide urban actors with relevant integrated data to help guide short- and long-term planning and strategies to improve climate resilience. European Research and Innovation Policy can foster the demonstration, uptake and transfer of successful examples of using urban CIS.
Contact