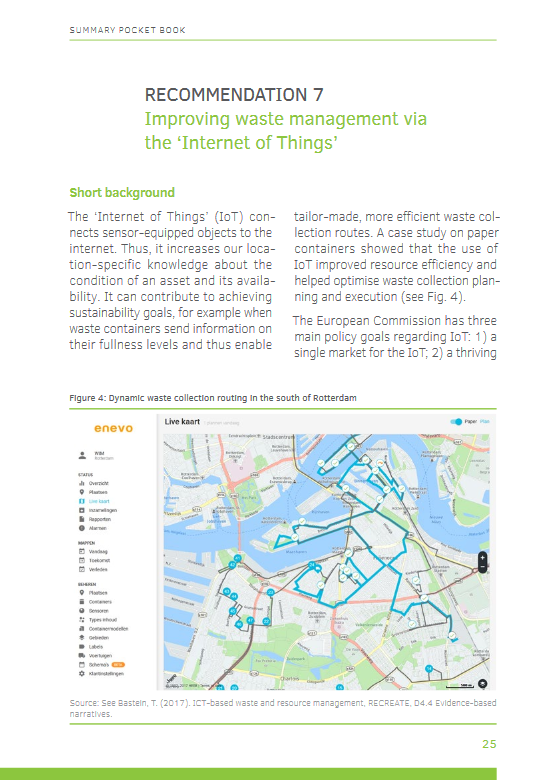 EU's Future R&I Needs in the Fields of 'Climate Action, Environment, Resource Efficiency and Raw Materials'
Recommendations from the RECREATE project
Publication

Citation

Langsdorf, Susanne; Stelljes, Nico; Hirschnitz-Garbers, Martin. 2018. EU's future R&I needs in the fields of 'climate action, environment, resource efficiency and raw materials'. RECREATE Summary Pocket Booklet.
This 'summary pocket book' presents key recommendations gathered in the RECREATE project ('REsearch network for forward-looking activities and assessment of research and innovation prospects in the fields of Climate, Resource Efficiency and raw mATErials') regarding future research and innovation needs in 'Societal Challenge 5': 'Climate Action, Environment, Resource Efficiency and Raw Materials'. The results include very concrete recommendations on selected topics, overarching recommendations which shall help to integrate the different research areas better and recommendations regarding the use of various methodologies.
Recommendations on priority areas for fostering innovation encompass:
Fostering new, especially service-oriented business models and creating a market environment that allows sustainable businesses to thrive.
Pushing for a circular economy by turning waste into a resource.
Increasing funding for the implementation of, as well as for R&I and knowledge diffusion about 'nature-based solutions'.
Under these priority areas very concrete recommendations for ten topics, ranging from 'selling solar services' to 'Fostering urban waste water symbiosis' are given.
Overarching research recommendations include suggestions to better integrate the 'Societal Challenge 5' research fields of 'Climate Action, Environment, Resource Efficiency and Raw Materials' as well as to acknowledge interlinkages, such as the resource-climate nexus. Future R&I in Europe should:
Refine and strengthen the definition of 'circular economy' to serve as a conceptual umbrella term for the topics 'Climate Action, Environment, Resource Efficiency and Raw Materials'. Furthermore, it is important to combine the concept with facilitators, such as 'Internet of Things'.
Move from isolated measures to a system transition.
Align R&I policies with policies in other domains.
Support cross-analyses of ongoing/finalised research projects funded under European R&I funding.
Contact