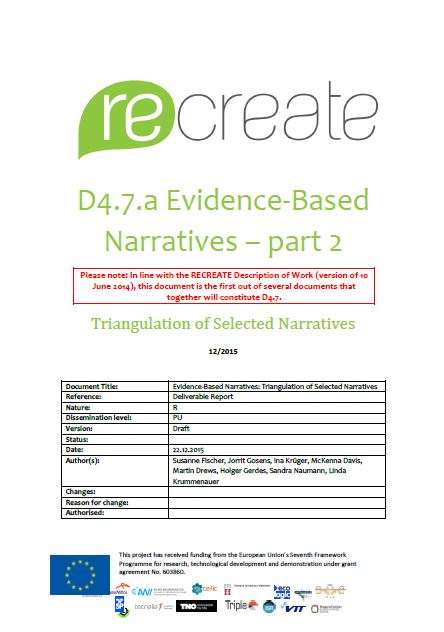 Evidence-Based Narratives – part 2
Triangulation of Selected Narratives
Publication

Citation

Susanne Fischer, Jorrit Gosens, Ina Krüger et.al. 2015: Evidence-Based Narratives – part 2. Triangulation of Selected Narratives. RECREATE deliverable 4.7.a.
The RECREATE consortium developed fourteen evidence-based narratives covering the three DG Research and Innovation flagship objectives that were presented to the European Commission in March 2015. On the basis of those narratives, the RECREATE consortium has been asked to deepen the investigation concerning selected narratives. The present deliverable represents the output of this request.
While the first versions of evidence-based narratives were almost exclusively based on desk research, including both published and unpublished works, for the second versions additional data and information were obtained from direct exchange with relevant experts and stakeholders in order to better tell the actual story behind the discussed innovation.
Contact