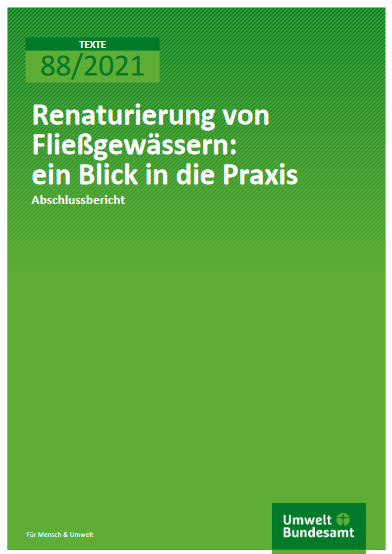 Renaturierung von Fließgewässern: ein Blick in die Praxis
Abschlussbericht
Publication

Citation

Lamberty G., Zumbroich T., Wagner F. und Kemper M. (2021): Renaturierung von Fließgewässern: ein Blick in die Praxis. Abschlussbericht. UBA-Texte 88/2021. Dessau-Roßlau: Umweltbundesamt.
This report documents the project work and results of the R&D project "Information Platform for the restoration of rivers", which was jointly carried out by Ecologic Institute, Planungsbüro Zumbroich and the Institute of Aquatic Ecology and Fish Biology, Jena (IGF Jena) from 2017 to 2020. The aim of the project was to create an online information platform about river restoration (Part I of the project report) and the analysis of German restoration projects in regard to their monitoring (Part II of the project report).  The report is available for download.
The project started with extensive research on river restoration projects in Germany. The resulting project database – consisting of 227 projects realized between 1987 and 2016 – served as a basis for the selection of 10 example projects for the information platform.
The information platform "River Restoration" (short English summary) addresses aspects of planning and implementation of restoration measures. The 10 selected example projects illustrate the significance of these aspects in practice. The platform is aimed, in particular, at potential actors of river restoration projects, such as cities and municipalities, water management authorities, watercourse maintenance associations, fishing clubs and citizens' initiatives.
The result is an online information platform that sheds light on the subject of river restoration in the form of specialist articles, infographics, videos and project examples.
Contact