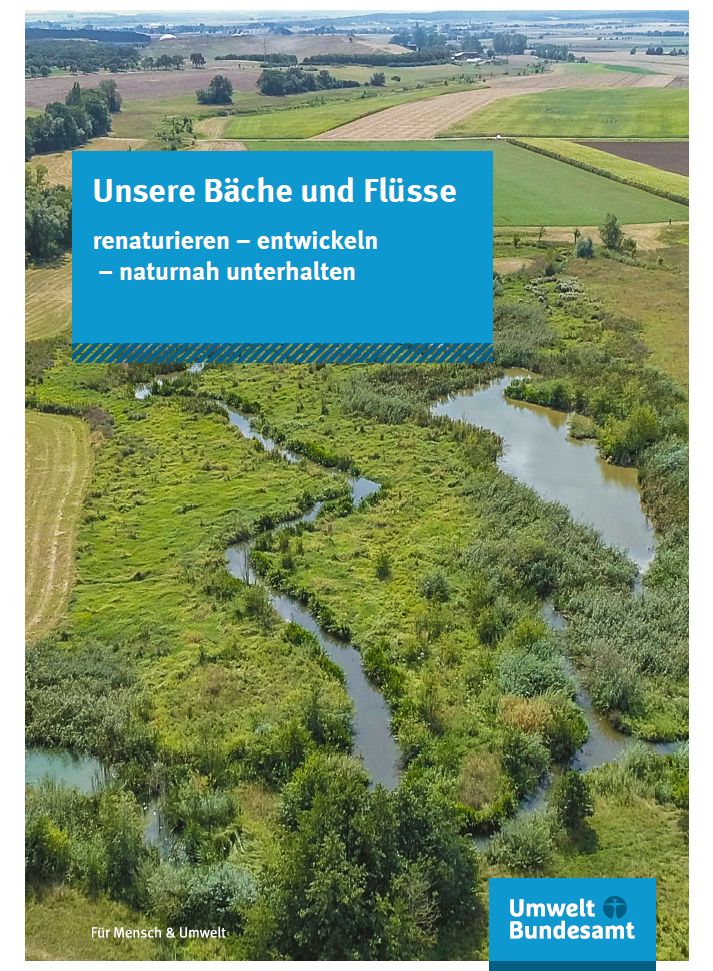 Unsere Bäche und Flüsse
renaturieren – entwickeln – naturnah unterhalten
Publication

Citation

Federal Environment Agency (ed.) 2020: Unsere Bäche und Flüsse: renaturieren – entwickeln – naturnah unterhalten. Compiled by Lamberty G., Kemper M. und Naumann S., Dessau-Roßlau.
This brochure provides insights into the contents of the Federal Environment Agency's online information platform "River restoration". The aim of the platform and this brochure is to motivate and support potential actors for increased implementation of river restoration measures. Therefore, basic knowledge on the ecological development of rivers and brooks is provided in a clear and understandable way. It also provides information on practical issues of planning, financing and land provision, but also on flood protection, nature conservation, agriculture and recreation. Restoration project examples further illustrate these topics. The brochure is available for download.
The EC Water Framework Directive and the German Water Management Act oblige to achieve "good ecological water status" by 2015. In many places in Germany this goal has not been achieved. For almost 92% of all water bodies, time extensions and exemptions were claimed. Monotonous water body structures, along with pollutants, are one of the main reasons why the objectives of the EC Water Framework Directive have not been met in Germany. Restoration aims to improve the hydromorphological structure of water bodies and makes a significant contribution to the implementation of the EC Water Framework Directive and the Water Management Act.
Between 2017 and 2020, Ecologic Institute and the project partners designed, compiled and implemented the German Federal Environment Agency's online information platform on river restoration.
Our rivers and brooks: restoration – development – near-natural maintenance
Contact
Language

Authorship

Georg Lamberty

(Planungsbüro Zumbroich)

Stephan Naumann

(Umweltbundesamt)

Credits

Design and Layout: Lena Aebli (Ecologic Institute)

Funding

Published by

Year

Dimension

50 pp.

ISSN

Project

Project ID

Table of contents

Click to show full table of contents

1 Einführung
Unser Tun verändert Flüsse und Bäche
Renaturierungen geben Gewässern ihre Natürlichkeit zurück
Gewässerzustand verbessern – ein gesetzlicher Auftrag
Informationsplattform: Renaturierung von Fließgewässern

2 Effektive Renaturierung durch gute Planung
Gewässerentwicklung ist Teamarbeit
Das Gewässerleitbild gibt die Richtung vor
Übergeordnete Defizite und Planungen berücksichtigen
Planungsprozess ist abhängig von Genehmigungsverfahren

3 Viele Interessen am Fluss
Kooperation und Mitbestimmung für erfolgreiche Renaturierungsprojekte
Mitbestimmung für neue Ideen und Konfliktvermeidung
Gewässerschutz kann nur gemeinsam mit der Landwirtschaft gelingen

4 Finanzierung von ökologischer Gewässerentwicklung
Zahlreiche Förderprogramme für Renaturierungen
Bundesländer sind primär für Förderung von Renaturierungen verantwortlich
Synergien durch Verknüpfung von Bauleitplanung und Eingriffsregelung
Stiftungen, Sponsoring und Lotterien

5 Renaturierung von Fließgewässern: was tun, wenn
… wenn Hindernisse, aber kaum Platz vorhanden sind: Maßnahmen für die Durchgängigkeit
… wenn der Gewässerlauf nicht verändert werden kann: Maßnahmen im bestehenden Profil
… wenn das Gewässerprofil und die Ufer verändert werden können: Maßnahmen im und am Gewässer
... wenn weiträumige Entwicklung möglich ist: Maßnahmen bis weit in die Aue

6 Dynamische Gewässer – die Kraft des Wassers nutzen
Renaturierung durch Eigendynamik und Hochwasser
Den Bach Bach sein lassen
Hochwasser – günstig renaturieren lassen statt teuer reparieren
Eigendynamik erfordert Entwicklungsraum

7 Flächen sichern für dynamische Gewässer
Platz schaffen für Renaturierungsmaßnahmen
Gewässerentwicklung beansprucht land- und forstwirtschaftliche Flächen

8 Hochwasser durch Auenreaktivierung entschärfen
Flüssen erlauben, über die Ufer zu treten
Natürliche Überschwemmungsflächen halten Hochwasser zurück

9 Naturnahe Unterhaltung statt Baumaßnahme
Veränderte Gewässerpflege als Alternative zu Renaturierungsmaßnahmen
Noch Unterhaltung oder schon Ausbau? – ein wichtiger Unterschied

10 Naturschutz und Gewässerentwicklung – ein schönes Paar
Tiere und Pflanzen profitieren von Gewässerrenaturierungen
Angel- und Fischereivereine engagieren sich für Gewässerentwicklung

11 Erholung am renaturierten Fluss in Stadt und Land
Renaturierung macht Fließgewässer erlebbarer und wertet Wohnumfeld auf

12 Renaturierungserfolge beobachten und messen
Vorher/Nachher-Untersuchungen des Gewässers einplanen

13 Beratung und Förderung durch die Bundesländer

14 Weiterführende Literatur

15 Abbildungsverzeichnis

Keywords

actor, river, restoration, hydro-morphology, Water Framework Directive, WFD

Germany

online, information portal, platform, internet, website, infographic, video, brochure