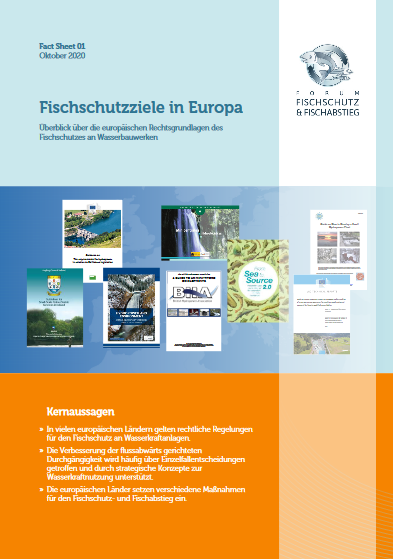 Fischschutzziele in Europa
Überblick über die europäischen Rechtsgrundlagen des Fischschutzes an Wasserbauwerken
Publication

Citation

Keuneke, Rita; Edith Massmann and Stephan Naumann 2020: Fischschutzziele in Europa. Überblick über die europäischen Rechtsgrundlagen des Fischschutzes an Wasserbauwerken. Ingenieurbüro Floecksmühle GmbH, Umweltbundesamt: Aachen, Dessau-Roßlau.
This Fact Sheet provides an overview of the European legal basis for fish protection at hydraulic engineering structures. The fact sheet "Fischschutzziele in Europa (Fish protection objectives in Europe)" is available for download.
The key messages of Fact Sheet No. 01 are:
Legal regulations for fish protection at hydropower facilities are in place in many European countries.
The improvement of downstream passability is often made through case-by-case decisions and supported by strategic concepts for hydropower exploitation.
European countries implement various measures for fish protection and fish passage.
Contact