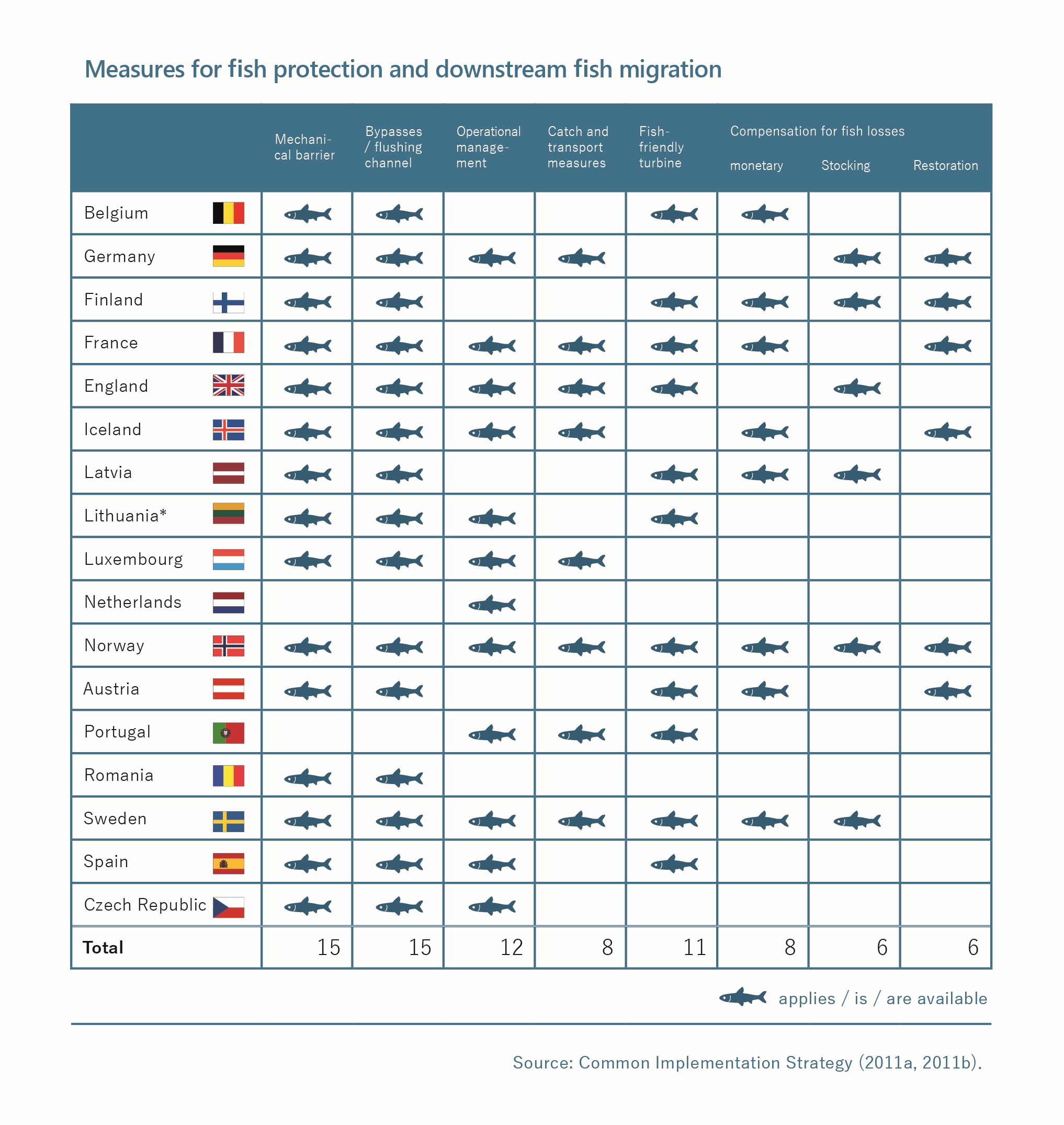 Measures for Fish Protection and Downstream Fish Migration
Publication

Citation

Ecologic Institute 2020: Measures for fish protection and downstream fish migration in Europe. Infographic published in: Keuneke, R.; E. Massmann and S. Naumann 2020: Fish Protection Targets in Europe. Overview of the European legal basis for fish protection at hydraulic construction sites.
Various measures are applied to improve downstream continuity at hydropower sites. The extent to which the specifications for the individual measures are comparable with each other was not examined in the context of this compilation.
In eleven countries, mechanical barriers are basically always used or used in certain cases (e.g. only for diadromous migratory waters) or as pilot projects. The dimensioning of the bar spacing (Latvia: 20 - 35 mm, Germany: 10 - 20 mm, France: 20 mm) and the approach flow velocity differ. Bypasses or flushing channels are used for downstream fish migration (ten countries). Nine countries resort to operational management measures. In Lithuania, operational management is necessary during spawning and migration periods, and in France during eel migration. More fish-friendly turbines are used in nine countries (e.g. Latvia fishfriendly turbine in combination with mechanical barriers). Some EU Member States also use measures to compensate for fish losses, e.g. when losses cannot be compensated by technical measures (France, Sweden, Austria). Compensation o fish losses through stocking measures plays a role mainly in Sweden, Norway and Finland and is used in six countries in total. Lithuania and Germany use this measure on a case-by-case basis (e.g. Daugava, Moselle). Catch and transport measures are used in seven EU countries.
This infographic provides an overview of the Measures for fish protection and downstream fish migration in Europe. The infographic is part of a fact sheet on fish protection targets in Europe.
The infographic is published under a creative commons license CC BY 4.0. That means it can be copied and redistributed in any medium or format and for any purpose as long as appropriate credit to the authors (Ecologic Institute, Ingenieurbüro Floecksmühle, German Environment Agency) is given.
Contact