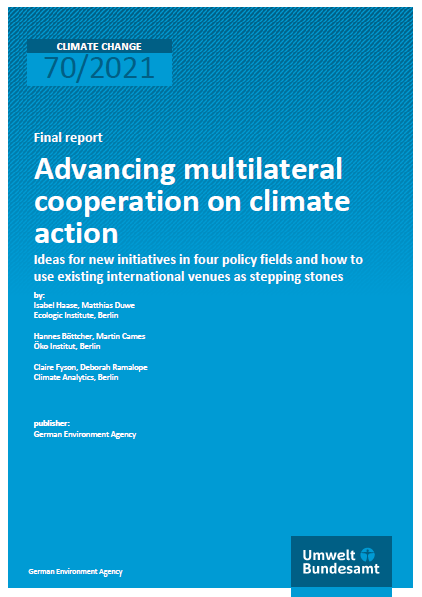 Advancing Multilateral Cooperation on Climate Action
Ideas for new initiatives in four policy fields and how to use existing international venues as stepping stones
Publication

Citation

Haase, Isabel et al. 2021: Advancing multilateral cooperation on climate action. Ideas for new initiatives in four policy fields and how to use existing international venues as stepping stones. Final Report. Dessau-Roßlau: Federal Environment Agency.
The year 2021 saw a positive dynamic on climate action internationally, despite the pandemic and its negative impacts on people's well-being and on the global economy. Especially, the reverse in the US approach to the climate crisis has provided a new boost. Moreover, COP26 in Glasgow created political momentum, as it has shown a global spotlight on the need for international action and on various forms of cooperation to achieve the 1.5 °C target. In 2022, there are several windows of opportunity for further advances in multilateral cooperation on the climate crisis, including in the G7 and G20 discussions, led by Germany and Indonesia, respectively. And the new German government has reiterated its desire to create a new "climate club" in this context. This report contains several proposals for specific new initiatives that could be started.
The report concludes the analytical work of the project "Accelerating global climate action and raising ambitions by 2030". It contains an analysis of the state of collaboration in the four policy areas energy transition, synthetic fuels, food systems and forest protection and identifies several possible additional themes and formats for additional initiatives. Moreover, it highlights the most promising initiatives in the context of support through the UNFCCC negotiations, the G7 and G20 and the pro-climate action agenda of the Biden Administration in the USA – which could act as stepping stones for new initiatives.
The analysis reveals diversity in the landscape of international cooperation across the analyzed policy areas. They differ in several ways: the extent to which countries are already cooperating, the scope of multilateral initiatives and what instruments are available to them vary. Those factors depend on the development of the policy area itself, but also on (perceived and real) political support for action. Thus, advancing multilateral cooperation on climate change in specific policy fields requires smartly addressing multiple channels and processes, for which this report presents potential starting points. Expert consultations have further highlighted the need for a focus on access to sustainable finance as a key horizontal topic for targeted multilateral collaboration, and also pointed to the strategic consideration of a sequential use of political fora to promote new initiatives.
The project, a collaboration by Ecologic Institute with Oeko-Institut and Climate Analytics for the German Federal Environment Agency (Umweltbundesamt), has produced a whole range of publications, with detailed analysis of the four policy fields plus overarching background documentation. For more information, please refer to the end of the page.
Contact