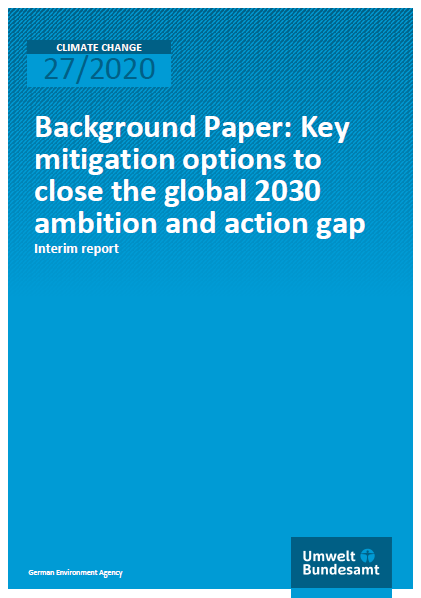 Key Mitigation Options to Close the Global 2030 Ambition and Action Gap
Publication

Citation

Fuentes Hutfilter, U. ; Attard, M.; Wilson, R.; Ganti, G; Fyson, C.; Duwe, M.; Böttcher, H. (2020). Background Paper: Key mitigation options to close the global 2030 ambition and action gap. CLIMATE CHANGE 27/2020. German Environment Agency, Dessau-Roßlau.
Achieving the Paris Agreement Long-term temperature goal (PA LTTG) requires closing the 2030 ambition and action gap between emissions levels consistent with the Paris Agreement and emissions levels projected with current targets and policies. G20 countries have a crucial role to play in realising increased climate policy ambition, given their economic power and prosperity, as well as their influence on investments, technology deployment and financial flows. This briefing paper provides an overview of mitigation options that have been analysed in recent literature and that can contribute to closing the emissions gap in 2030. This provides the basis to identify key policy areas and promising options for intergovernmental cooperation between the G20 nations, as well as possibly other relevant actors.
Contact